All Hallows Eve
Friday, 31st October 2003
Richard Bell's Wild West Yorkshire nature diary


Previous Page | This Month | Home Page | Next Page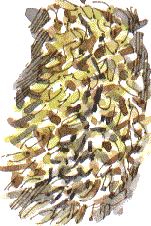 It's cooler and the rain and wind have stripped leaves off the ashes and from our rowan. Drifts of leaves are strung along the canal by the the bridge.
It's enough, you'd think, to dampen anyone's spirits but, no, the spirits are abroad tonight and our first caller is Count Dracula (grandson of one of our neighbours).
'Trick or Treat!'
'You can choose: the healthy option of a satsuma or one of these!'
He fishes out one of the chocolate mini-bars but as he walks back up the drive he turns and says:

'Fwyffth fwons ffwoken!'
I realise it's those vampire fangs he's having difficulty with - he's trying to tell me that the chocolate bar he picked out is broken. I give him one more dip in the tub.
Interestingly none of the ghosts or pumpkins who called (there were no witches or wizards this year) went for the satsumas.



richard@willowisland.co.uk


Previous Page | This Month | This day in 2001 | Home Page | Next Page