The Last Head of Celery
Thursday, 9th October 2003
Richard Bell's Wild West Yorkshire nature diary


Previous Page | This Month | Home Page | Next Page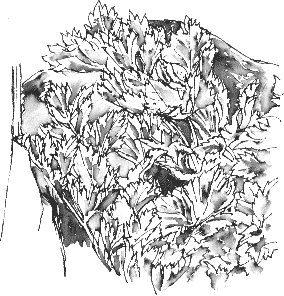 Good to be back in the garden drawing with just the swish of a mad October wind around me. This is the last head of celery: we pulled a couple this moring and made soup for lunch.
Drawing out here again is a way for me to feel myself coming back down to earth. We've got all sorts done this summer, especially in the house, but it's been at the expense of my drawing.
O.K., so this is just a sketch but it had got to 5.15 and I hadn't got any drawing done, so why not settle for a simple sketch?
Better than nothing, and it's put me in the mood to do more.



richard@willowisland.co.uk


Previous Page | This Month | This day last year | Home Page | Next Page