Pheasant and Goldfinch
Wednesday, 26th November 2003
Richard Bell's Wild West Yorkshire nature diary


Previous Page | This Month | Home Page | Next Page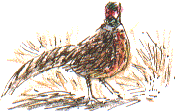 We're well into the pheasant shooting season but this ring-necked cock pheasant looks relaxed and in immaculate plumage as he strolls down the garden path from the meadow and pecks, in an unhurried, aristocratic way, at the turf by our pond.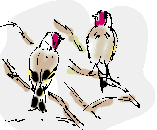 In equally splendid plumage two goldfinches are extracting seeds from the teasels behind the pond.
The grey squirrel continues to nibble its way through the crab apples.

Crackenedge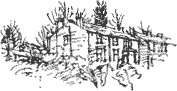 This terrace - looking in the street atlas I think it's Peter Hill - sits on the hill at the top of the Dewsbury/Batley railway embankment overlooking the Redbrick Mill (where we're having lunch at the Café Casbah). The terrace is fringed by bare trees - I guess they're sycamores - and a dark Leyland cypress while the birches on the embankment below are clinging onto their last few ochre leaves.
The Kirklees Way runs along the open slope above and, on the top of the hill beyond it, there's Hanging Heaton golf course. The prominent sandstone scarp overlooking Dewsbury is called Crackenedge. I've never walked across it. Perhaps it's time I tried walking part of the Kirklees Way.

Related Links
GameMaster - encourage pheasants by growing a cover crop (then shoot them! - still this practice helps out of our native wildlife too).
Waymarked Routes in Pennine Yorkshire.
Café Casbah - we went for the olive, feta and roast vegetable brouchetta with an organic elderflower pressé followed by a vanilla cheesecake and a mocha. The trouble for me with visiting a café like this is that it makes me start thinking about taking a trip to Europe again: the brouchetta brought back memories of Greece, the cheesecake of Austria. Well, perhaps there's time for a couple of days in Paris before Christmas!


richard@willowisland.co.uk


Previous Page | This Month | This day last year | Home Page | Next Page