Kwik Sketch
Thursday, 14th August 2003, page 1 of 3, West Yorkshire


Previous Page | This Month | Home Page | Next Page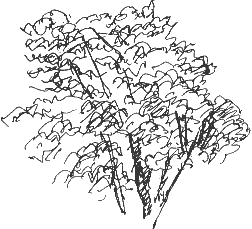 It's been such a rush this week: I grab my sketchbook as I wait in the car as Barbara dashes into Kwik-Save for a tub of crème fraîche. As the name of the supermarket suggests, this doesn't give me long to start a drawing and I feel that I'm scribbling as I try to sketch the tree (I think it's a poplar) at the edge of the car park.
It probably does me good from time to time to work a bit faster.
Summer trees often echo the shape of the clouds in the blue skies above.



richard@willowisland.co.uk


Previous Page | This Month | This day in 2001 | Home Page | Next Page