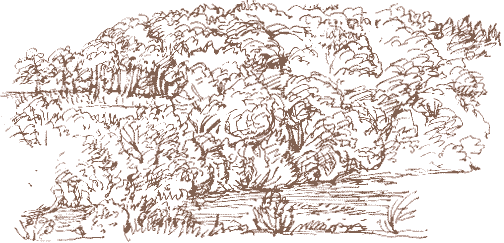 This Edding 1800 pen drawing from Charlie's Bar at the back of the Hall is my lunchtime relaxation. I've been painting at the lakeside for a couple of hours, laboriously blocking in the proportions of the panorama which includes Walton Hall, its iron footbridge and ruined Watergate; holding my pencil at arm's length to measure the proportions, then washing in the background colours.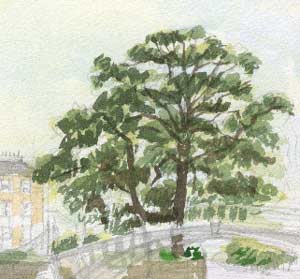 I find painting takes so much longer than drawing. I'm so used to the speed and precision of pen and ink that I find a B pencil, which I used for the initial drawing, gives an indistinct line on watercolour paper. This frustrates me because once I've made the decision on precisely where I want the line to go but the line itself still seems undecided. It's more a modgy approximation - a stippling - that could go one way or the other.
It's like trying to draw with one of those big peppermills in an Italian restaurant!!

Commissions
This is my first commission for a year and I realise why I no longer take on commissions: I'm plagued by doubts. When I arrived this morning I discovered that the viewpoint I'd discussed with the client no longer exists: willows have grown, obscuring the view.
The client asked for a 'soft watercolour'. Is this really the way I see the scene? Am I doing my best to capture the spirit of the place?
Luckily the client seems happy with the viewpoint and the way the picture is going so far.
Barbara likes it too. She thinks it's about time that I got more colour into my work. Sometimes I need to do things that make me extend myself.


Richard Bell, richard@willowisland.co.uk