Rain by day, rain by night, so we miss any chance of seeing the Perseid meteor shower.

We're off to Denby Dale, which is where number 15 of my twenty Village Walks in West Yorkshire starts and finishes. I like that one (well I like all 20 really) because it soon takes you up out of the town into Pennine haymeadows and then dips down into the 18th century hamlet of Quaker Bottom. The new revised edition of the book is now in the shops, including at Orchard Bookshop on the High Street in the village. Please let me know how you get on if you try any of the walks. If there are any inaccuracies in the directions it's not for want of checking them, Barbara and I were out in all weathers during the winter walking all the routes again for this second edition.
Just around the corner from the bookshop is Springfield Mill, one of several old mills in the area that has been divided up into shops.

Something Blue
In the stationery shop here's an offer on this 'most comfortable ever' Parker Pen (£5.99). E-mail is great but I miss receiving letters and I miss writing them: sitting there with a pen and paper is so different to the experience of typing at a computer monitor. Writing is rather different from drawing but my old writing pen, which I'd also bought at the Mill, eventually wore out and since then I've been using my Art Pens for writing letters.
The new pen writes smoothly and I find the rubber grip comfortable. The ribbed grip of the Art Pen makes an imprint on my fingers when I'm using it for long periods.
The Pink Pig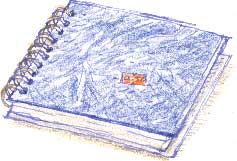 '

I'm on the look out for a new sketchbook so I go for this 6 x 6 inch spiral bound cartridge pad. I'm surprised to find that it's made just down the road at Emley.
'Pink Pig books,' their web site says, 'are wire bound hard backed drawing books, mostly with hand-made covers. They all contain acid free papers, with a good tooth and weight. We offer over 9,500 different permutations and the list is growing!'
This was drawn with the Parker pen. I haven't started the new sketchbook yet, I'll let you know how I get on with it.

Related Link
Richard Bell, richard@willowisland.co.uk