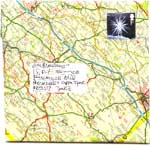 Two weeks ago, I had an e-mail titled 'Please add me to your list of admirers'. How could I resist looking at that one first?!
My new correspondent had stumbled across my site while researching the phrase 'where the woodbine twineth'. There's all sorts of stuff hidden away in the 1,500 pages of this diary!
She asked if I would add her to my mailing list for updates. Well, I didn't have a mailing list so I decided that it was about time that I got around to setting one up, as this isn't the first time it has been suggested.
Initially I tried it out on just four or five people, to see if it worked. One of those was, of course, my friend the artist/journalist Danny Gregory who immediately put a mention of my list in his Everyday Matters weblog. Thank you to all of those who subscribed.
If you'd like to subscribe here's how to do it:
To Add Yourself the Wild Yorkshire Mailing List
E-mail me at: richard@willowisland.co.uk
To Remove Yourself from the Wild Yorkshire Mailing List
E-mail me at: richard@willowisland.co.uk
I'll e-mail no more than once a week about new pages that I've added to the diary.

The updates go out as 'blind carbon copies' so there shouldn't be any chance of the list finding its way to a third party.

I certainly won't pass on any addresses to anybody.
Danny also thinks I should set up a Wild Yorkshire discussion group. I'm still thinking about that one.
Pushing the Envelope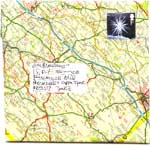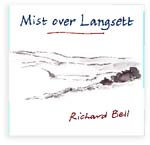 The animation above shows how I make envelopes for my six inch square Sushi Sketchbooks. I came up with this idea when I was sending out Mist over Langsett, which was to become number one in the series, to friends with their Christmas cards last year. I soon ran out of suitable envelopes and realised that I could recycle pages from the old large format paperback road atlas that we were just throwing out.
I've since trimmed out-of-date walking maps into roughly one foot squares for the same purpose. Square envelopes are the easiest to make; I've never tried a rectangle. I tape the seams with Magic Tape and add a self adhesive Avery mailing label for the address.
The envelope animation reminds me of an opera singer, a large tenor, taking a bow at the end of a performance. Press your 'refresh' button to see it again.

Richard Bell, richard@willowisland.co.uk