Walk from Coxley Valley to Cannon Hall
We could smell the carrion odour of stinkhorn in Coxley Wood before we spotted this one by the path. Its slimy top had attracted dozens of flies which were crammed in around the edge like pigs at a trough.
A few of the logs stacked by the track at Wilderness Plantation, Bretton, are spouting this wavy bracket fungus.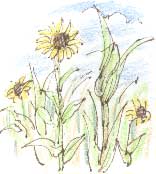 There's a startling clatter of wings as a red-legged partridge breaks cover just as we get to a stile.
There are belts of maize and sunflowers along the edges and in the corners of fields at High Hoyland. I guess the crop is there to provide food for pheasants and partridges but other birds and for small mammals will also benefit.

A yellowhammer perches at the top of a holly with food in its beak, it must have a nest nearby.

Spaniels for Sale
In High Hoyland village there's a sign 'SPRINGER SPANIELS FOR SALE'
Probably my favourite dog. My Dad had one that he took with him shooting but it was also a favourite family pet. As we walk past a stone retaining wall one of the spaniels races towards us, right on our ear level since we're down on the pavement, yapping enthusiastically:
YAHAPPAPPHAPPARAF!
Oh yes, now I remember: the barking and the whining. Dogs are fine, but isn't silence wonderful!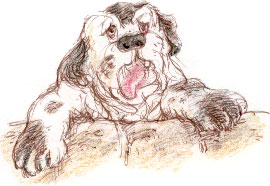 Just to rub it in, as we get to the other side of the gable end of the house:
BAHURRUFFF! BAAHRUFFF!!!
Again right at ear level! An enormous St Bernard sticks his huge jowelly head over the wall, near enough to slobber on my cheek, and stands leaning with his paws over the top of it, like the wartime cartoon character Chad.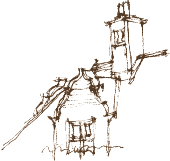 I sketch the Dutch style gable of the entrance lodge at Cannon Hall as we wait (after lunch at the Sunflower Café at the garden centre) for the summer Day Tripper bus to take us home.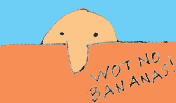 Chad, or Mr Chad, was a wartime cartoon character, always shown looking over a wall and always bemoaning some food shortage or another.

Richard Bell, richard@willowisland.co.uk