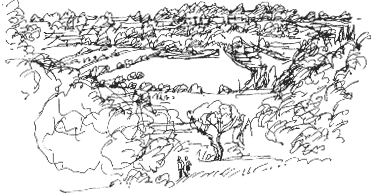 Thornhill Park, 3.30 p.m.
Amongst the dull greens, one beech is showing yellow ochre/green autumn colour. The trees above our bench are sighing in the breeze and helicopter seeds parachute down from a lime.
There are masses of purple loosestrife in the marshy area.
I like the rural feel of Thornhill Park, and it's hillside situation. We're looking north across the valley towards Ossett which looks leafy from this angle with its large Victorian gardens and belt of trees by a park beyond. In medieval times this part of the parish was the 'South Wood'. It is remembered in street names such as Sowood Avenue.

I've just commented to Barbara that although the conkers (right) are dropping from the horse chestnuts there are no conker collectors in sight when a young girl on a bike hurtles down the slope, followed a minute or two later by her father who is walking along behind her, with a carrier bag stuffed with conkers.
There's a good crop of walnuts on the tree behind the old Rectory. Half a dozen of them, lying at the foot of the tree have been nibbled into, most likely by grey squirrels.
France Inter
While binding the first batch of copies of my Saints and Serpents Norfolk sketchbook, I decide that I'll try and improve my French. Barbara and I haven't visited France since December 1999 and we keep thinking about walks in Brittany, crêpes and galettes and cafés in Paris. It's time we crossed the Channel again.

While I was decorating this week I listened to the six cassettes of my Linguaphone Visa French Programme again for perhaps the 30th or 40th time. As I now know it almost off by heart I thought that this morning I'd try listening to French radio instead. The long wave reception here isn't terribly good but, as I went to the stereo to tune in, I realised that, now I've got broadband, I can listen via the internet.


I like France Inter because it gives me so much opportunity to listen to different types of voices. This morning there was a discussion on food and wine. One man with a rich rural accent seemed to be going on about the old traditions of French charcuterie (pork butchers) and choux (cabbages, I presume, I don't think they were talking about puff pastry) while another character, who I pictured as a trendy chef, was coming up with what I took to be new ideas for cooking pork and cabbage.

Although I could follow very little of it, by listening I hope that I'll gradually tune in my ear to the rhythms of French speech, and I'll gradually pick up some of the commoner phrases.


Le cochon
the pig
(actually this is la truie, the sow)
Related Link

France Inter warning: this site disables the 'back' button on Internet Explorer. Not a nice thing to do. If my French was up to it, I'd send them an e-mail complaining about it!
However, if you want to listen to French speech radio, it's worth indulging their Napoleonic attitude to surfing.

Richard Bell, richard@willowisland.co.uk