The busy lizzies and petunias in the hanging baskets are looking decidedly lacklustre and the lobelia fizzled out weeks ago but the scarlet geraniums, which Barbara has transferred to terracotta pots, go on flowering on the patio.

A three quarter full yellow moon rises behind the branches of an ash in the wood, and at first I think it's a light in a house across the valley, glimpsed through the leaves, as if I was seeing the flashing lights of a party. Soon it has risen clear of the tree.
Bassets
That pot of geraniums reminds me of my freelance days, at least 15 years ago. At that time I worked through an artists' agent who specialised in wildlife art. Towards the end of the 80s there were fewer opportunities for natural history illustration but my agent had some success in finding his artists commissions for collector plates.
Give it a try, he suggested; he had a client who was considering a series featuring different kinds of puppies. Cute isn't me but with the prospect of a down payment plus royalties if the series proved a best seller I thought it was worth a try.
Here's a detail from my rough, which was in pencil, pen and ink and watercolour.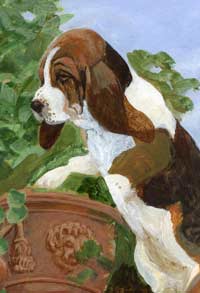 The best part about this job was meeting and photographing a trio of basset pups out Pickering way. They were such attractive subjects and I like plates, use them every day, but to put the pups into a circular design with cuteness uppermost in my mind proved an impossibility and my design was rejected.
The lugubrious pup (left) is a detail from my first attempt at the final artwork. It's in acrylic on cartridge paper which I stretched on a large board.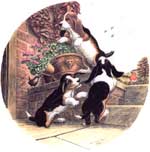 As any archaeologist will tell you, potsherds have a long, long life. Out of all my work, I guess it's the drawings that were transferred to ceramics which will last the longest.
Potsherds and Posterity
I have a image of our sun going nova, the Earth being shattered into cosmic debris and, somewhere out there, a detail from one of my drawings, forever preserved on a ceramic fragment, drifting aimlessly through space.
Well, if that does happen, it won't be these basset pups who feature in some alien space academy museum, eons in the future.

Richard Bell, richard@willowisland.co.uk