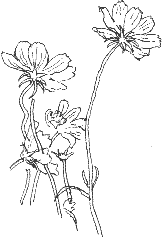 Café Lazeez, South Kensington
These white and lilac pink flowers growing in the tubs by our café table attract a honey bee, even here by the side of the busy Gloucester Road. There's also a hoverfly about.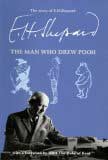 We've just been into Waterstone's bookshop and I'm amused and moved to think that the last time I bought something in those premises - almost 30 years ago - it was my local supermarket and I was a student living 5 minutes walk away in the Royal College of Art student hostel at Evelyn Gardens.
I choose E. H. Shepard: The Man Who Drew Pooh by Arthur Chandler as my holiday reading. Shepard (1879-1976) was not only still alive then in 1975 but, well into his 90s, he was still practising as an illustrator. Wish that I'd had the chance to meet him.
Drawn from Memory
Like so many children, I grew up with his illustrations for Now we are Six (I still have the copy my parents bought me on my sixth birthday), Pooh and The Wind in the Willows.
I recently went back to Winnie-the-Pooh and was surprised at way the story is set so firmly in the world of a male social group. It never struck me as odd at the time. The same thing applies to The Wind in the Willows. Yes, in one chapter a single mother with a foreign-sounding name, Kanga, moves into the Hundred Acre Wood but Rabbit, Owl, Pooh and Piglet get together and plot to kidnap her youngster, Roo, to deal with the problem. Wonder if you'd get that plot past a children's editor today?

I drew the view from our room at the Hyde Park Hotel, Craven Terrace, Bayswater with Shepard in mind. His autobiographical accounts of his childhood days and his student days, Drawn from Memory and Drawn from Life, are a delight and bring the London of his day to life in intimate and affectionate detail. While reading Drawn from Memory I realised that, in the dozens of pen and ink illustrations, every chair that Shepard had sketched was a different type of chair and each chair said something about the kind of house the characters were in at the time. He seems to have had a photographic memory and an ability to conjure up a scene years later from a minimum of sketched detail.
It's a treat for me to reaquaint myself with Shepard's work in The Man Who Drew Pooh and to see some of the material from the Shepard archive at the University of Surrey that is published here for the first time. It's one of those books that I can't put down and I end up reading it at one sitting after dinner in the hotel.
Again the male-dominated society reflected in the Pooh stories strikes me as odd by today's standards. Shepard went through a boys school, an artillery regiment in World War I and his professional work centred around the Punch table where editorial meetings were held every Wednesday over a leisurely meal, again all-male gatherings.
During his student days at the Royal Academy he met the painting student Florence Chaplin who would become his first wife.
The Curious Case of the Recalcitrant Coffee Cup
Olio's Restaurant, Corus hotel Hyde Park, 8.15 p.m.

What went wrong? Admittedly I'd had a large glass of Moondarra Shiraz prior to this drawing (and then helped out Barbara by drinking some of hers!)
Related Link
E. H. Shepard: The Man Who Drew Pooh and Drawn from Memory published by Metheun
Shepard Archive at the University of Surrey
Richard Bell, richard@willowisland.co.uk