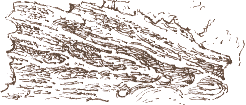 New Street, Ossett, 9.15 am, cool, overcast

This weathered face of cross-bedded sandstone reminds me of Brimham Rocks in the Yorkshire Dales. There a structure like this might be a gritstone tor 20 feet high but this is a 10 x 6 inch block in a tall Victorian wall around what is now the health centre in Ossett. The cross beds represent the layers in a sand bank in one of the rivers that flowed through this area 300 million years ago, in the Upper Carboniferous Period. At that time we were on the equator, with dense tropical forests covering low-lying deltas; a contrast to the damp cool weather today.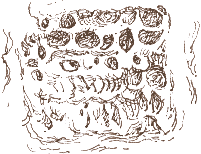 Each pulse of sediment left coarser particles first, then, as the current ebbed, progressively finer grains. The grains are now held together by a yellowish mineral deposit, limonite ('a mixture of similar hydrated iron oxide minerals', see link below), which acts as a natural cement. Weathering exploits the varying strengths of the material within each layer.
The smaller block (right), about 6 x 6 inches, is pitted with ½ to 1 inch deep holes, like a Swiss cheese. They appear to be in layers but I can't imagine why weathering should have resulted in such a regularly spaced pattern.
12 Months


I sometimes get the impression that I'm getting nowhere with my work but glance at the 'This day last year' link below makes me realise how much I've done. A year ago I'd almost finished re-walking my Village Walks in West Yorkshire for the new edition which is now in print. Since then, in addition to writing up all those walks, I've published six Sushi Sketchbooks. So I have got somewhere, despite regular bouts of doubt and despondency.
By the way, if you're interested in the geology of the area, my Yorkshire Rock - a journey through time, a colourful account of the last 500 million years, is still available and still at the old price of £6.50, from the British Geological Survey (or through your local bookshop).

Related Link
Countryside Books who publish Village Walks in West Yorkshire
Richard Bell, richard@willowisland.co.uk