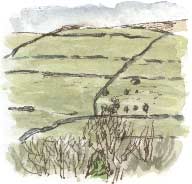 After a month of printing booklets and painting backdrops we're ready for some time out. We set off, intending to take a short morning stroll around Newmillerdam, a local country park, but as we drive up the road I spot the distant tops of the open moors.
'Looks at those blue hills? Why can't we go there?!'
'We could,' suggests Barbara, 'there's nothing to stop us.'

We realise that we've got no errands or appointments hanging over us so instead of turning left at Flockton towards Newmillerdam we turn right and go via Emley, Cannon Hall, Penistone and the Strines to the edge of the Peak District at Ladybower.
By now it's lunch time so we stop at the High Peak Garden Centre at Bamford for a broccoli soup and a bacon and mushroom barm (what we'd call a teacake or breadcake) at their Bay Tree Café. I draw the view from our table (left). We've come without a map but the waitress tells us the alternatives for a walk; north towards Ladybower reservoir or south to take lane up towards Shatton Moor.
The Lane to Shatton Moor
We set off up the slope, heading in the direction of the hillside I've just drawn, and soon find ourselves in a quiet side valley. A farmer is knocking a fence post into the ground at the other side of the valley. The sound carries so clearly that I'm sure we could have had a conversation with him without raising our voices very much. I find myself speaking softly to Barbara in case we're overheard.

Exploring a hillside without a map to guide me is something I'm not used to but there's no way we can get lost as we wander around with the valley spread out like a map below us. Not having a plan to follow makes the walk more surprising; more of an adventure.
It's just what we needed today: I see plenty on this short walk that I'd like to come back to and draw.

A Few Birds
From the Café

River Noe

Stream at Shatton

2 Mistle Thrush
2 Robin

1 Dipper
4 Mallard

1 Grey Wagtail
Richard Bell, richard@willowisland.co.uk