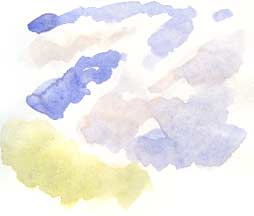 This quick sketch of the sky might not look much but it's the first time I've taken out my little box of watercolours for ages.
This box isn't much bigger than a matchbox and having just 6 colours in it - two versions of each of the primaries - means that you have to mix all your greys and greens. This might seem a bit laborious if you're in a hurry; you might think you'd do better with instant green, instant grey, 'just add water', as they say, but I was able to do this in a few minutes and the greys in the sky and the patch of green are more modulated than they would have been straight from the box.
This was as far as I got as I waited at a table by the window in Ikea as Barbara queued for a roast veg lasagne (excellent) at the cafeteria. But there you are, I've burst into colour again.
| | | |
| --- | --- | --- |
| | Fruity bagel slice | |
We've just taken Rough Patch to the big Borders store at Birstall and, naturally, had a browse and a coffee at Starbucks.

Richard Bell, richard@willowisland.co.uk