'Just have a look at that sky!' calls Barbara, but, in the short time it takes me to grab the camera and come back upstairs to the studio, the intensity of crimson over the wood has already faded. According to the traditional rhyme:
Red sky at morning
A shepherd's warning
I can see that the converse of this, 'red sky at night, a shepherd's delight' makes sense because if it's clear in the west that means there are no Atlantic lows heading our way.
Thornes Wharf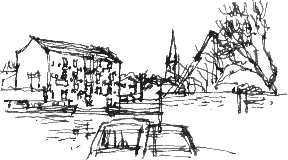 While delivering books and doing a bit of Christmas shopping in town, we find that Woolworth's has restocked on their British Wildlife 2006 calendar photographed by John. We buy a handful of them and on our way out of town call to get John to sign them. He's busy with a customer at his riverside studios so I draw the view of Thornes Wharf while we wait.
The warehouse on the left still has the letter's:
'JOHN HURST & CO
CORN CAKE & BARLEY
MERCHANTS'
painted on its white-washed frontage.
A Shepherd's Dog

In Horbury there's an evening opening of the town's shops so I'm signing copies of my Sushi Sketchbooks and of Rough Patch in Rickaro bookshop.

I can't sit there eating mince pies and chatting to various people I know without drawing Sox, Richard Knowles' border collie.

Links

John Gardner at www.wildscenes.com

Richard Bell, richard@willowisland.co.uk