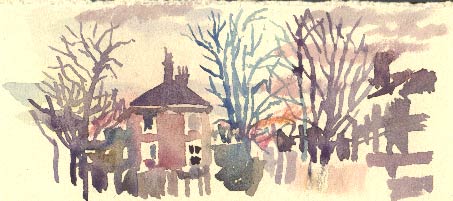 Lost in their overcoats, waiting for the sunset
The sounds of the city sifting through trees
Settles like dust on the shoulders of the old friends
Old Friends, Simon and Garfunkel
I've got a rare chance to sit waiting for the sunset, not 'on a park bench like bookends', like the Old Friends in the Simon and Garfunkel song, but in the comfort of a waiting room at Clayton Hospital, Wakefield, as I wait for my mum to have a check up on her eye.
This is the best view I've ever drawn from a waiting room, usually I resort to drawing a potted plant or goldfish swimming in a tank. I've got my tiny 6 colour watercolour box with me and a squeezy waterbrush, so I get to work as the light fades. Working with just the primaries can be a bit hit-and-miss when it comes to mixing, for example, the browny, bluey black of the trees against the evening sky, but it gives some accidental variety to the sketch.
The colours builds in sky, then quickly fades and I switch to pen and ink to draw the stark silhouettes of the trees.

Richard Bell, richard@willowisland.co.uk