On my recent train journeys, after sunset, when there's no landscape to see out of the window, my view of fellow passengers has been limited by the high seat backs, added to which, people jostle around at every stop, gradually disappearing as we continue down the line, so, as an alternative, I've resorted to drawing my hand holding my sketchbook.

This always seems a poor and partial effort when I start - I tend to think, why am I bothering to do this? I've drawn it so many times before - but, because I have no other demands on my time during the journey I'm able to settle down to some calm, quiet, observation. I think the drawing has something about it; I don't mean that it's a drawing that you'd want to frame and hang on the wall, but it is a record of that process of seeing, so it seems worthwhile.



In Grandad's Footsteps

Every time that I've visited the Peak District recently, I've walked across the platforms of Sheffield Station and I've found myself remembering that it was here, 100 years ago, that my grandad, Robert Bell, worked briefly as a railway porter. He gave it up after a week because, as a country lad, he couldn't cope with the long hours of walking on hard surfaces that the job involved, so he took a job in a large three-storey stables nearby (where the horses that pulled the trams were kept).

I once asked him why on earth he'd left the countryside.

'I went to Sheffield,' he replied, 'because a certain young lady had gone there!' That was my grandma Jane; they had first met, in the grounds of Serlby Park in rural Nottinghamshire, at a celebration for Queen Victoria's Diamond Jubilee in the summer of 1897.



Train shed, Sheffield Midland station
Learnt by Heart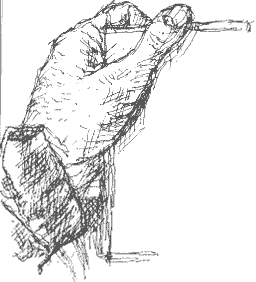 Anyway, the point of telling you this family history is that grandad had a poem that he'd occasionally recite, which he'd learnt as a boy; about people, life and trains. When he was 80 going on 90, he could still remember it and he wrote it out, if I remember rightly, for my sister's 21st.

Tucked away in the attic, I've got grandad's exercise book from when he was a teenage boy and a country doctor's family were teaching him to read and write. I believe that the book has the poem in it, so I must look it out some time.
Life on a Train
After the recent death of a friend, his widow sent on a Power Point slide show, Life on a Train:


'Life is like a train ride . . . We get on. We ride. We get off. We get back on and ride some more. There are accidents and there are delays. At certain stops there are surprises. Some of these will translate at moments of joy, some will result in profound sorrow.'
This is illustrated with photographs of cute kids in sad clown make-up.
The piece goes on in a bittersweet but upbeat kind of way which doesn't quite correspond to life (or train rides) as I often experience it.
Slow Train to Goole
My train ride to Goole to the Alien Planets show a week ago was a good example:
I made the mistake of getting on the first train, the stopping train, which was late, and was then overtaken by the next fast train which whizzed past us while we waited in a rural sideline. And so I missed my connection. Grrr.

Then, on the way back, there was the late-and-can't-be-bothered-to-put-a-spurt-on-now-what's-the-point train. So-ooo frustrating! Luckily a fellow passenger lent me her phone and I was able to let Barbara who was going to pick me up.
The Shuffling Madness
Life, and train rides, seem nearer to the Jethro Tull song Locomotive Breath, which combines the 'life is a train' metaphor with the children's song of the 1950s, The Runaway Train. It starts:
In the shuffling madness
Of the locomotive breath,
Runs the all-time loser,
Headlong to his death.
He feels the piston scraping --
Steam breaking on his brow --
Old Charlie stole the handle and
The train won't stop going --
No way to slow down.
Yes, that sounds more like life as we know it, but it's played with such a driving steam train rhythm that it comes over as some kind of a celebration.
And things get worse:
He sees his children jumping off
At the stations -- one by one.
His woman and his best friend --
In bed and having fun.
He's crawling down the corridor
On his hands and knees --
Old Charlie stole the handle and
The train won't stop going --
No way to slow down.
Ian Anderson/Chrysalis Music, Aqualung, 1971
40 Plus, the band my brother Bill plays in, surprised him by performing this life-affirming rock song at his 50th birthday bash: the perfect choice!
Parallel Lines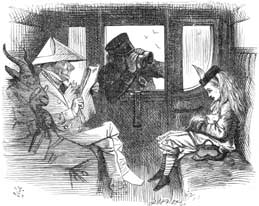 But there is a weakness (apart from mawkish kids in clown's makeup) in this 'life as a train' idea. It implies we, the passengers, have some privileged position in the universe.
If you get out and draw, if you look at natural world around us, if you look up at the night sky or take a look at the rocks beneath your feet, you realise that everything we see is on its own journey through time.
We, on the train, might be travelling through time, but the landscape that we're travelling through - its trees, mountains, clouds, rivers, species, stars - is also on a journey.

Richard Bell, richard@willowisland.co.uk