Another sunrise.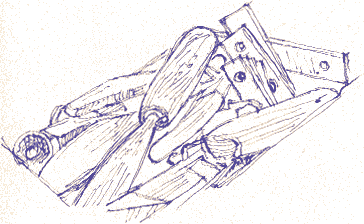 A box in the back of the garage, contains an assortment of tools and shelf brackets. The wood-carving chisel was given to me by Bernard Larrad, a local man, who died about 20 years ago, who made inventive, sometimes whimsical, constructions:
a model sailing ship

an ingenious lightweight folding easel/studio horse which he called his 'rat-trap

'walnut whimsies' which were little characters made from nutshells
It's good to use tools which have some personal association but I have to admit that I've never done much with the wood carving tools.

Eye and Hand
Yesterday, my mum went for what, for most people, is a routine cataract operation; to replace the lens in her right eye. There were complications and it might be two months before she's fitted with the replacement lens.
As a teenager, obsessed with drawing, I wondered what I might do when my sight begins to fail. At the time, my grandad, approaching his 90s, was no longer able to read. Grandma had to give him a running commentary on any television sports - such as the Saturday afternoon wrestling.

My imagined solution to this was that, as my sight failed, I might switch to sculpture and, using rasps, files and sandpaper, make objects which were intended to be picked up and felt as much as looked at.

This piece, a little over 9 inches (23 cm) tall, was the second, and last, piece of wood sculpture I carved in the woodwork class at school. This was in 1965, when I was aged 14.

I was trying for something geometrical in this piece of fine-grained timber (it looks like beech to me) but I think I must also have had in my mind a small African warrior figure in ebony which my godparents had sent me from Tanganyika (as it was called at the time).

The Henry Moore/Barbara Hepworth references are pretty obvious but probably not intentional; I probably just assumed that this is what modern art should look like.

'It was a general conversation piece in the Ossett Grammar School woodwork exhibition' where this photograph was taken by my classmate, Michael Hart (wonder whatever happened to him?)


Wood Sculpture

From an article I wrote in 1965

'A good sculpture' said Michelangelo, 'is one that can be rolled down a hill without anything being broken off.' I am sure that is true of mine, although no-one has got that desperate with it yet. To make it I was given an oblong piece of Scots pine and I kept it to this shape. To begin with I chiseled out holes, then decided to join them up with grooves. Mr Healey (the art master) told me to follow the grain. I tried my best to do this. When I had done all this I rounded off the corners with a rasp. This got it roughly smooth so I glass papered it. To finish it off I gave it three coats of French polish and one coat of bee's wax.

Richard Bell, richard@willowisland.co.uk