As I walk around the front of the school, a small flock of sparrows flies up from the grass beneath the tree. I stop and look, puzzled because, as they fly, I can see through their wings. I guess that sparrows' wings must be made of some translucent, brownish material - like my mum's nylon stockings.
Sparrows have nylon wings? That's my best theory but I may be wrong: this was summer, 1957, and I was 6 years old.
My old school, Clifton Infants, celebrates its 50th anniversary next month. I started there a couple of years later when we moved to Horbury. I missed out on the first term or two and somehow I have a feeling that I've never quite caught up. While the other boys and girls seemed to belong to Horbury and seemed to know exactly what was going on, I felt like the new boy.
I still feel a bit like that today. As if I don't quite belong. As if I'm an outside observer; a stranger passing through town.
Bread and Cheese
Local knowledge: for instance, in springtime, when the bright green leaves start bursting from the hawthorn bushes by the school playground, one of the boys shows me that you can eat them. He tells me they taste of 'bread and cheese'.
Well, yes, you can eat them, but I've never had bread and cheese that tasted like that.
Seeing the Light

There's a red light on the wall in the main hall. Another boy (Richard Walker, if I remember rightly) shows me that if you cover it you can just see its glow through your hand. It gives a kind of reddish 'x-ray' of my hand between the knuckles. This works only with young children.
Mrs Birdhouse
Because I start late in the year, I don't spend much time in the first class (on the left as you came in at the entrance hall), taken by Mrs Birdhouse. In a role-playing game, part of our religious education, we get down on the floor and act as sheep. One child is singled out to be the good shepherd that leads his flock.
Mrs Wallace

I remember more of Mrs Wallace, our teacher in the second year, in the classroom on the left, nearest the entrance of the school. One day in a free choice session I use some of the large, rough whitish wooden bricks to build a church with a tower and arrange smaller bricks around it as gravestones. Mrs Wallace is so impressed that she lets me finish the model and she discusses it with the class.
Strange child: it seems that my interest in architecture and natural history goes back a long, long way.
In a Flash

During the third year (I've forgotten the teacher's name) there was more of an emphasis on reading - from flash-card lists held up to the whole class.
In my early efforts at drawing in that year, I remember one revelation.

I habitually drew noses as a triangle. One day I happened to glance in the mirror above the sinks in the room adjoining the classroom and I noticed that my nose wasn't really a triangle: I noticed that it had rounded lobes.
This made an immediate impression on me - bong!! - and I resolved to change the way I drew noses from that moment. Once you notice it, it's as obvious as . . . the nose on your face.
Miss Marsh


The final year: the headmistress's class in the school hall.
There were no male teachers in the school but P.C. Best occasionally came in to teach us kerb drill. At Christmas time we were given road safety cards to colour in for our friends and relatives. Something along the lines of 'HAVE A MERRY CHRISTMAS AND DON'T FORGET TO LOOK RIGHT, LOOK LEFT . . .'
The King and the Castanets
With my mum's flair for things theatrical, I reckon I was the best-dressed Wise Man in the school nativity play. I don't remember anything of the performance but afterwards we three kings stood in the entrance hall as the parents left and I was proud to be the king who received the most donations.
Fashion note: the turban was material wrapped around my little brother's riding helmet-style toddlers hat (so this was a turban with ear flaps). It was finished off with a broach and a pheasant's feather (my dad went shooting) and my mum tells me she also arranged a string of pearls around it. The casket originally held biscuits; not gold, frankincense or myrrh.
The tunic was from a pre-war Chinese fancy dress costume of my mum's. In subsequent years the outfit was used as a costume for the genie in an Arabian Nights school play.
John H. Hopkins, Jr., 1857
We Three Kings of Orient are,
Bearing gifts, we traverse afar,
Field and fountain, moor and mountain,
Following yonder star.

Playground version, 1957
We Three Kings of Orient are,
One in a taxi, One in a car,
One on a scooter, papping his hooter,
Smoking a black cigar.

My worst performance: in a school concert I was sitting on the floor with the castanet players. We had rehearsed the number but on the big day my castanets broke early on in the performance so my rendition sounded more like someone slapping a wooden spoon against the palm of his hand.
The Long Memory of a Glove Puppet

This glove puppet (left) was originally supposed to be Santa Claus but, when my teacher, Miss Marsh, offered to cut me some material from an old red dress of hers, I had an image of her ruining a perfectly good outfit so I refused her offer and he ended up in a floral print. Nice.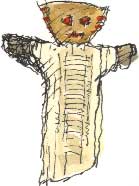 I'm not sure what the other puppet I made (right) was supposed to be; it was in a pale yellowish stretchy flannelly material with a brown felt head. Perhaps it was a lion.
Thanks to this odd-looking character, I was drafted in as the third man to stage a puppet show. With my classmates Richard Walker and Martin Crossley, I crouched behind a screen and, while they did a little comedy routine with their puppets, I interrupted occasionally, my character serving as a crocodile (as in the traditional Punch and Judy show), which kept popping up from gaps in the material covering the screen.

'Grrrrurrghhh!'
I was amazed how easy it was to get a laugh from the audience of children sitting on the floor in front of us.

These puppets might look quite dim but the Santa at least had a long memory: I found him in a box at the back of our garage about 20 or 30 years later. I wondered what his head was stuffed with. As I loosened the threads inside him it was like opening a time capsule from my childhood, from one particular day in Miss Marsh's class:

Hell Drivers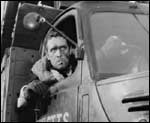 There was a screwed up page from a Woman's Own of that year, 1957. It included a short item about a new film; Hell Drivers, a gritty saga of lorry drivers mixed up in murky deeds at a local quarry company. The ensemble cast included some of my favourite character actors of the period as well as Stanley Baker, Sid James and a young David McCullam (later Illya in The Man from Uncle) and, as the bad guys, Patrick McGoohan (left; Danger Man and The Prisoner) and William Hartnell (the first ever Dr Who) but the film is best remembered today because it included Sean Connery's first credited film role.
I like the film - which I didn't see until years later - because there's plenty of period detail - including a corner shop and a transport café - and lots of lively location filming involving the big trucks of the time (small by today's standards) hurtling along English country roads.

My mum gave the garage a good clear out some years ago, so the puppet with its time capsule of a brain is no longer there.
Garry Bailey's Gang

Finally; they say you learn as much from your classmates as from the teachers at school, in which case I owe a debt to Garry Bailey (name changed to protect the mischievous) who, one school lunchtime, for about 10 or 15 minutes, was the leader and organiser of Garry Bailey's Gang.
The boys soon realised there was something going on as Garry lined up his recruits along the right end of the playground. My friend and I soon joined up. There may have been a brief oath of allegiance and an inspection by our new-found führer, I don't remember too clearly, but the best part of it was a big charge that we made, in a great long line, shoulder to shoulder, across the playground, yelling as we went .
Gangs are fine, but what do you do once you've set one up? Spread a feeling of belonging and bonhomie? Er. No.
I saw one younger boy standing on the grass in the corner by the school. He was in tears .
'Why don't you join the gang?' I suggested to him.
'They asked me to join,' he sobbed, almost too upset to get the words out, 'and I said I didn't want to, so they beat me up.'

Richard Bell, richard@willowisland.co.uk