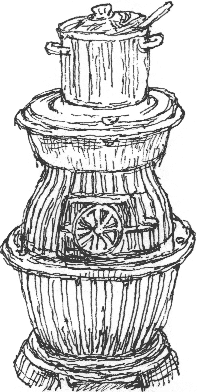 Barbara and I have been invited to take a look at Helen Thomas's studio. She and John (Welding) make us welcome with homemade celeriac and carrot soup, transported from their kitchen at home - four miles away - in a container on the back of a bicycle and heated up on the wood-burning stove (a 'Wild West' Pot-Bellied Stove) that Helen's dad fitted up for her.
The smell of woodsmoke that, on this gusty afternoon, occasionally wafts in, like a genie appearing from their stove-top kettle, summons up memories of the common room caravan at the osprey camp in the 1970s for me and reminds Barbara of our stay in 1990 in the old farm house on Skokholm Island. Helen's paintings, in small groups on racks around the studio, weave a spell too.
I knew this studio was in a garage or workshop in her parents' back garden so I hadn't imagined the airy but cosy accommodation (am I beginning to sound like an estate agent?) and the panorama of the Calder Valley you get from the door.
I spot a pair of wooden shoes lasts on the windowsill, which look as if they were carved for a Victorian lady's slim feet. They're the sort of thing that would sell in antique shops these days; they're like wooden fish carved by Inuit or Aborigine. Helen tells us that her grandad was a shoe-maker - not a shoe-repairer; he made the whole shoe. She tells us that, before the concrete floor was laid (on the site of an old pigsty) for the garage/workshop that now houses her studio, scores of these old lasts were tipped in to level up the site.
I'm horrified at the waste; 'Helen! - that could have been your pension fund!'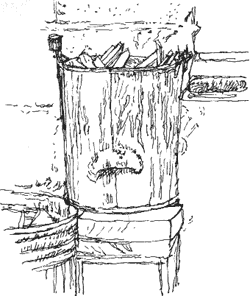 It's interesting to meet Helen's parents for the first time. Not only can we see the physical resemblance but we can see where she gets her practical creative skills - her dad seems to be able to turn his hand to almost anything.
Sea of Lost Soles
As someone who is keen on geology, I can picture the layer of shoe lasts beneath our feet, like a stratum rich in fossil fish and, rather like geology, where the present is held to be the key to the past, so, in Helen's case, the past seems to be flowing through into the present both in the family tradition of craftmanship in her work and in the luminous atmospheres she creates in her paintings.
On each working day here, she is returning to her childhood haunts. Some artists would want to get away from all that baggage but Helen is evidently at home here, in her studio on the hillside, overlooking our everyday world in the Calder Valley below. She's created a place to work that is homely but which has a touch of backwoods wildness about it. A place with layers of meaning and memory for her.
Her paintings shimmer like shoals of fish, they fit together as comfortably as a favourite pair of shoes and hint at some lost mystery amongst the dancing seas of grasses, flowers and seedheads that she paints.

Richard Bell, richard@willowisland.co.uk