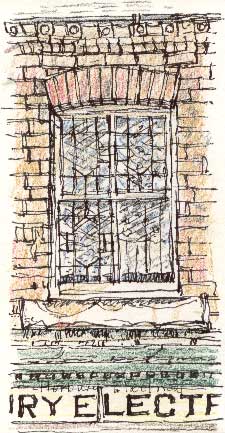 Danny Gregory(left) and I sheltered under umbrellas at a table by the snacks van at Horbury Street Fair in June last year and drew the passing scene. I think of this kind of weather as being something of a tradition with the Horbury Street Fair but there have been plenty of hot, sunny weekends too. It's cool and wet today; not what I'd hope for in mid-May.
Now that the next Street Fair is looming, on the 11th and 12th of June, I'm looking out these drawings because I've been asked to supply something for the programme. These figures bring it all back for me!
Danny's drawing, which will also be included in the programme (so it's sure to be a collectors edition), features a couple of the stalls and the 'John's Ices' van. I've also asked John Welding if he'll let them use his drawing of 'The Old Bank' which featured on the cover of his Awakefield Diary #4.
When Danny arrived from New York for a long weekend's drawing last year the first place I took him was Horbury. Queen Street sums up the character of the smaller towns in this part of Yorkshire. We sat in the Cottage Tea Room and while he drew the building that was formerly Walker's butchers' shop, across the road, I focused, as I had in Normanton a few months earlier, on an architectural detail: the window above Horbury Electrical.
Between us, Danny and I probably drew enough for a small sketchbook during the time he was here.

Related Links
Richard Bell, richard@willowisland.co.uk