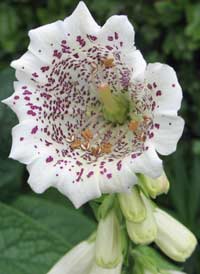 On the grounds that ' in the future every flower will be world famous for fifteen minutes' I gave this mega-star of a foxglove the Warhol treatment in the Serif PopArtPlus which had come free on the cover CD of Digital Creative Arts.
Barbara spotted this single XXL bloom on one of the white flower spikes in the border by the bird feeder. It's has a more symmetrical shape than the usual policeman's helmet-shaped foxglove flower and it's growing out of sequence; you can see, above, that a foxglove normally has buds at the top of the stem, flowers lower down and the developing seed capsules below.
This mega-flower has jumped the queue and burst into flower before its time. I photographed it ten days ago, it lasted for several days then, following its fifteen minutes of fame, it withered and now appears to be setting seed. There are four or five times the normal number of sepals (four) around the base of the flower, so it looks like a little globe artichoke.