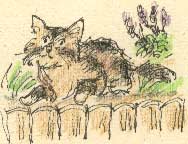 Barbara had seen this long-haired tabby lying by the hedge on the pavement. It watched her as she went into the house, peeping up over the heather as if it was thinking 'Hmm, has she gone yet?'
So what's the big attraction about our front garden? I spotted it later, nestling on the heather bed right at the foot of the tree where the sunflower feeder is hanging, regularly visited by goldfinches, greenfinches and the occasional coal or blue tit.

I opened the front door and asked: 'Would you mind getting out of my garden?'
It went off under the beech hedge.
'Whose garden?' I guess it was thinking.
It's an unusual-looking cat, Barbara comments; it looks low-slung.

Richard Bell, richard@willowisland.co.uk