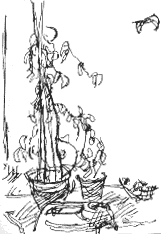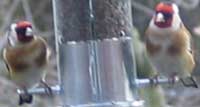 Such a shame: a young goldfinch has hit the window, killed itself instantly and is lying there on the patio. It's the second this year and we also had a young chaffinch killed in the same way. Since we started putting out niger seed (or nyjer seed if you prefer) we've had dozens of finches, mainly goldfinches, in the garden. We've probably helped the parents rear larger broods than usual so I hope this more than makes up for the odd casualty.
I feel that we should put cut-out silhouettes of a sparrowhawk on the window, but which window? They've hit the patio doors, the glass panel in the back door, the kitchen window and the lounge window at the front.

Autumn officially arrived this week with the equinox on Thursday and it does feel as if the season is setting in. The runner beans have shrivelled back after the cold nights.
A heron (left, background) flies down the valley, followed some minutes later by another. Are they going home to roost or is the evening the best time for a spot of fishing?

Richard Bell, richard@willowisland.co.uk