Community Artists
Saturday, 7th October, 2006
'The whole event had a real community feel, mixing differing ages and with something for everyone.' said sculptor Pauline Gill, who came along and joined in the workshop, 'Many other districts would perhaps benefit from this kind of event, with extended families getting thin on the ground, it may offer a sense of purpose and belonging for many people, young or old.'
Pauline got our portrait drawing session underway as we sat around the table and drew each other. That's Rachel drawing me (right) and her drawing of me (below left). I think I look like Aslan! Maybe it's time to get a haircut.
| | |
| --- | --- |
| Richard by Rachel | Richard by Josh, aged 6 |

Girl by Rachel

I drew three brothers who watched the way I set about drawing then settled down themselves to draw. The youngest of them, Josh even went off and grabbed a passerby to pose for him.

'You can draw me on one condition,' said the man, Harry, graphic designer for Coxley Live, 'that you make me look as if I'm 20.'

Josh immediately put down his HB pencil, picked up a black conté crayon and gave Harry a lovely head of dark curly hair.

But we didn't just draw portraits . . .
Link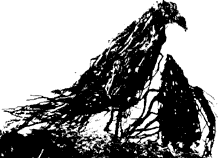 Pauline Gill has exhibited in London, Berlin and at Grizedale Forest sculpture park and she's run workshops at the Yorkshire Sculpture Park. Although she works as a sculptor, her twig birds seem to me to be more like drawings in three dimensions. She tells me she has experimented by drawing in ink with a twig but these crows (left) are constructions, as if crow and crow's nest were one and the same.