Trees on the Line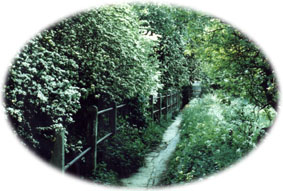 At the Coxley Live event people were understandably upset about the latest bout of tree-felling that Bellway Homes (no relation to me, I assure you!) have carried out at their Coxley Dell site. One man told me that he went out last week to photograph the destruction. He tells me one of the construction workers saw him and shouted:
'You haven't got a leg to stand on!'
Yes, that's about true; Bellway started by polluting the beck, they've cut down a century-old ash tree, got rid of ALL the natural vegetation - wild garlic, purple loosestrife, cow parsley etc - on the right side of the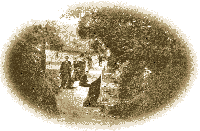 beckside path (above left, pre-development) and they've taken up all those Yorkshire stone flags. They've put up a 2-3 metre high fence where you'd have expected them to plant a hedgerow of native species. They've urbanised a scene celebrated in Victorian postcards and paintings; it's neat tarmac and timber now.
OK, I can hear you saying that in the real world this is just what you expect developers to do; it's no use getting upset about it but I'm left feeling why did I waste my time writing a wildlife report for the planning department just to let it 'disappear' from the file, why did I spend time listening to the developer's barrister saying that the whole scheme could be completed with loss of just two small hawthorns? Why did I stand up and give evidence just to be threatened with legal action and called a liar? What was the point of all that?
Yes, we did end up with a long list of conditions attached to any development in this sensitive green corridor site but there seems to be no way of enforcing them.
I phoned the tree officer and he told me - surprise, surprise - that there was nothing he could do about the latest bout of felling because the trees were just outside the development site, on the farmer's land (although Bellway men felled them).
Why bother?
| | | |
| --- | --- | --- |
| Meanwhile in another tree . . . | | |
| We've been having trouble our phone and broadband connection. | It turns out that the trouble was where the cable goes through the branches of two large sycamores and an oak. | The branches have frayed and stretched the cable so this morning BT Connect came out and fitted a new cable. |
What was I saying about 'save the trees'?!
The engineer has had a surprisingly varied career; for ten years she was the chef on the London Pullman.