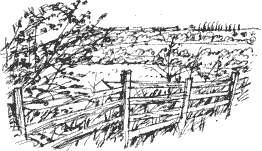 I've finished writing and illustrating my Addingford walk and my next Walk around Horbury is over to the fringes Lupset, a suburb of Wakefield. As you can see from this sketch there's a surprising amount of open country squeezed in between Lupset and Horbury.

Once again I'm drawing from photographs, taken as I walked along dictating notes to myself on my Sanyo Talkbook (it's probably time I updated to a little mp3 device). I'm trying to keep a light touch with these drawings. I think I've got it just as I want it with the view of Lupset (left) but the Ordnance Survey trig point (right) might be a little too sketchy. We'll see when I drop it into the page design.
Digital Notes
Unfortunately my digital camera ran out of power after I'd taken the photograph of the trig point so when it came to a scrubby/grassy embankment of the M1 motorway that I pass on this walk I searched my hard disk for these wild flowers which I photographed there a few years ago.
Traveller's Joy and Yellow-wort are unusual plants to find in coal measures countryside and I suspect that they're growing where magnesian limestone chippings have been incorporated into the embankment, probably in land drains. Both these plants prefer lime rich soils.
Monumental Blunder
I also had a photograph of this urn, carved in pink granite which once stood in the Baptist Cemetery on Baptist Lane, Ossett. Unfortunately the cemetery was bulldozed by developers, which upset local families who had relatives buried there. And it's a blow for genealogists who might wish to track down their ancestors.
The skill in this carving is remarkable; the urn is beautifully polished but the carved drapes have been left with a matt, chiselled surface as a contrast.

Motorway Bridge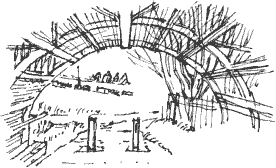 As I say, I've been using photographs for reference, but I don't like tracing them as I feel that restricts my drawing so I thought, even with a complicated subject like this bridge across the motorway (left), I should be able to get it all convincingly symmetrical and in perspective by treating each section of the bridge like a piece of a jigsaw and building up the picture, piece by piece, from left to right.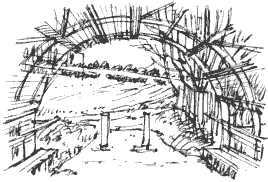 I realised when I'd finished that the arch looked saggy so I started again (right), this time with the two posts in the middle. I added some indication of the landscape then I put in the arch as one shape.
That's in better shape.