Richard Bell's Wild West Yorkshire nature diary
Fat Feeding Frenzy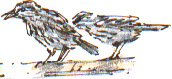 THERE'S A FEEDING FRENZY at our bird table as starlings come and peck at the fat blocks which have been hanging there for a week or two. They all but finish them off. They descend in a garrulous group; some on the blocks, some on the ground while others look on from the branches of the crab apple. There are about 40 in total.

This morning we had 15 or 20 goldfinches but they were going for the sunflower hearts which the starlings ignore.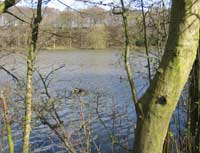 We've just about got Christmas wrapped up with cards zipping off to friends on four continents and Barbara knitting some last minute presents so this afternoon we take a break from it all and stroll around the lake at Newmillerdam. On a weekend there are rather more children and dogs around than you'd meet on a week day but, imagining the scenes at the retail park just a couple of miles away, I don't mind mingling with the lakeside strollers.

Sunlight through bare trees, the smell of winter woods, the floating world of waterfowl.
A welcome break.