The big brick-built mill of Thomas Ambler & Sons, worsted spinners, in East Ardsley is now Country Baskets, a wholesale supplier for florists and gift shops with all sorts of fascinating stuff that you wouldn't come across anywhere else such as different kinds of wrapping and string. The small art department has some very reasonable canvases. So tempting.
This view from their café is tempting too. It looks like interesting countryside to walk in, the way one wide shallow valley opens onto a wider valley. It's actually the countryside alongside the M62 and in the distance there are the tower blocks of Leeds in the Aire valley but I think you could find some interesting footpaths to follow and if you could then connect with the river and canal you could walk right into the city centre. I'd like to try it some day. The advantage of walking into a city is that there are plenty of buses and trains to bring you back home again.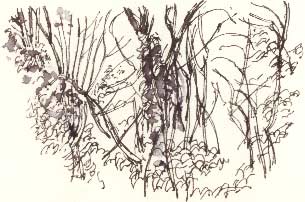 At Barbara's mum's I draw the hawthorn hedge, now beginning to burst into leaf, with ivy covering the banking below. Sparrows flit about and a collared dove flies down onto the clothes post.

Links
Country Baskets 'the UK's largest wholesaler of floristry supplies, silk flowers, pottery, glasswareand, of course, baskets.'
East Ardsley, St Michaels a selection of headstones and monumental inscriptions & War Memorial from Morley Family History Society.
Richard Bell, richard@willowisland.co.uk