In the sun this morning, Ossett market in the square in front of the town hall reminds me of one of those bustling markets that you come across in small French towns. While there's often a cold wet wind blowing across the square, today you can take your time.
While Barbara goes into the fruit and veg shop I sit on a bench and, using a fibre tip pen, draw a detail of a Victorian shop front (Ainley's Insurance, left) opposite the library.

We pull in at the Barracuda fish and chip shop on our way back and, while Barbara goes in to buy a couple of fillets of haddock, I draw the tower of Christ Church, South Ossett.
Bursting into Colour
I've been concentrating on pen and ink and tonal work this spring for my Peak District sketchbook and I'm now feeling the need to burst into colour. When we get back and take a mug of coffee out to the patio table I go for my larger box of watercolours, the White Nights, Russian-made ones (below, left), and add a colour wash to my quick sketch.
It's such a pleasure, spashing a bit of colour on! I started by mixing a little sepia and indigo to make a makeshift Payne's grey and put on washes to represent the shadowed areas of tower and shop front then let that dry in the sun before I added the cobalt blue for the shop and the brown wash (mainly sepia) for the church.
A Detox Diet for Drawing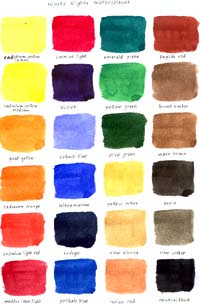 Working in monochrome might be a good way concentrate my mind and me to brush up on my ability to describe subjects in tonal values; good for the soul, a kind of artistic detox diet, but colour is such fun to use. Such a sensual indulgence. A few indications of colour bring a simple drawing to life.
I'm on the design phase of my Peak District book at the moment. I suppose that I could add some colour but the whole concept of the book was to explore the possibilities of black and white.

For my next book I intend to use full colour throughout. I'm ready to immerse myself in colour!

Richard Bell, richard@willowisland.co.uk