Richard Bell's Wild West Yorkshire nature diary
Low Laithes
Tuesday, 23rd January, 2007



I NEED THE CAR today so I take Barbara in to the library. It's just ten minutes drive from here but in the rush hour it takes longer, making a total of 45 minutes for the round trip. 45 minutes! I could drive to the Peak District in 45 minutes and probably use less petrol than I do when the car is in crawling traffic.

I must admit that I did come back the pretty way, via Low Laithes and, hey, isn't that my artwork on the sign? It's hard to tell at a glance but years ago I drew them a logo of a barn owl perched on a tee marker flag. Perhaps they're still be using it. The Low Laithes Golf Club website includes a map of the course; hover the mouse over each hole no. to see the view from the tee.
I wonder if they still have a resident barn owl? The habitat looks perfect.
Goat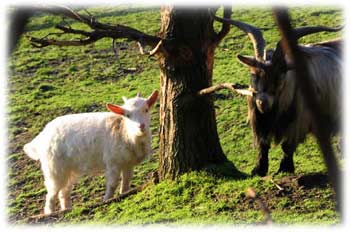 It's amazing what you see on a walk in the country around here. I didn't expect to see these wild-looking goats so close to Horbury.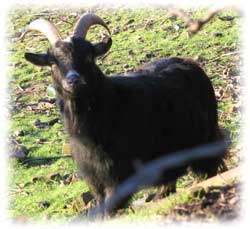 It's a fine afternoon so I'm out checking out the last of my walks, an extra one I've added to the original four. The goats are near Storrs Hill which was the route I took to and from school during my five years at Ossett Grammar.

Bricks & Coal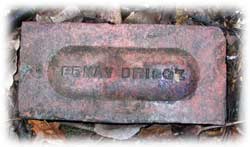 This brick was lying on a little-used footpath down by the railway. The name Fenay Bridge has been appearing on housing developer's signs; an old quarry site has been landscaped on a hillside near Huddersfield.
The Avery scales (below, right) were used to weigh lorries filled up with coal from Hartley Bank Colliery. I remember a walk from St Peter's Junior school one afternoon in the early 1960s. We visited the colliery (but didn't go underground), watched coal being loaded into barges on the adjacent canal, saw the small tank engine hauling a few trucks across the valley and finally saw the trucks being emptied via a chute into coal merchant's lorries.

'If our whole class stood in the back of one of those lorries,' said our teacher, Mr Lindley, 'We'd hardly tip the scales.'
I pace out the steel platform; about 20 feet long; which was probably the typical size for a lorry in those days.