MONDAY MORNING: a new week, a new month and also back to 'normal' work, whatever that might be, after the time we took off last week to do other things.
Two weeks on Friday there's an art exhibition at the local church, St Andrew's, Netherton, the church with the small belfry that sticks up above the trees of Coxley Valley, as seen from my studio window. I've bought some small square canvases because I'd like to do something fresh for the show.
By 10 a.m. the sun has burnt away the morning mist, so I go out and set up my acrylics to paint the golden hornet crab apples on the tree behind the pond. The colour is appealing but for the chunky painting that I have in mind the subject doesn't have enough form - except for all those little apples of course. It seems a bit fussy for the simple image that I have in mind.
Festival of Chainsaws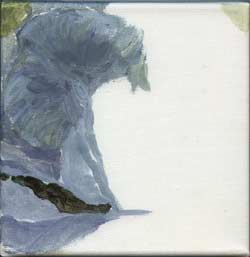 I give up on it at lunch time, although I might go back to it tomorrow when I've had a break from it. In the afternoon I start another canvas of a red cabbage (right). This comes along quite promisingly; as the subject is divided into large rounded leafy segments I can be more methodical as I block in the picture section by section with no initial drawing.
Unfortunately after 3 or 4 minutes, the landscape gardeners start trimming the hedges and shrubs next door. I keep going for a while, but the whir of a one-stroke engine a few yards from me and the whiff of petrol fumes are enough to break my concentration. I could continue but I know I'd make a hash of it, like I did this morning.
I'm unlucky; the last time I painted a cabbage, on a hot afternoon in the summer, the council footpaths team started up a chainsaw in the wood to remove the large bough of an ash that had fallen across the path. I find the screaming whir of a chainsaw an impossible distraction. Perhaps I should invest in a good pair of ear protectors if I'm serious about working in our back garden. Visitors comment on how quiet it is here but I have the knack of chosing the wrong moment to settle down to paint.
4.30 p.m. and they're still at work. Maybe tomorrow I'll be lucky. At least I've made a start.
Art Aid
An artist friend whose grandson was born last year with cystic fibrosis is organising an art exhibition to publicise and raise money for the Cystic Fibrosis Trust. We're each asked to contribute a small artwork which she'll get framed.
What's the best thing to do? I can't afford to donate a picture that I've spent hours on but I can guarantee that if I dashed something off in the lively, fun spirit of the event it would sit there unsold. My work - quick sketch or finished painting - is more suited to books and doesn't have the poise and pazazz to sell off the wall.
I wouldn't want to present a charity with a well-meaning embarassment that would sit there unsold - seems a bit arrogant somehow, as if I'm presenting it as something of intrinsic worth - and I'd hate a supporter of the Trust to buy my work solely because it was being sold for charity; to buy it out of a sense of duty.
Anyway I hope the show goes well.