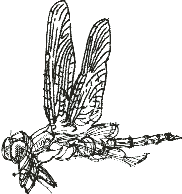 ANOTHER WEEKEND, another family gathering . . . and another baby to draw. Some day soon I will draw adults again, I'm sure.
Barbara puts together a side salad for the Sunday dinner which includes fresh tomatoes and cucumber from our greenhouse. Not bad for mid-October but I don't expect that they'll last much longer. The courgette's leaves are mildewed now but we've had a few fruits from them this week. This is the first year we haven't ended up with a crop of marrow-sized courgettes; Barbara's been harvesting them about once a week throughout the summer. This year she grew all the plants from one packet of seeds.
We're going to try a crop of salad leaves in the raised bed in the greenhouse when we take out the tomato plants.
Dragonflies are still on the wing by the pond but we haven't seen house martins for a week or two now. It's always difficult to remember when you last saw them. They're always there, then, one day, they're gone.
The Sympetrum dragonfly (right), which is reddish, was lying (deceased, unfortunately) at the bottom of a plastic tube near the window in the corner of the kitchen. Barbara found it there when she took out the plastic sheet she occasionally uses for rolling out pastry when she made a pizza base the other day. My drawing is in dip pen and ink. When I was drawing the wings I found that I was getting a rather thick line but as I got to the head, thorax and abdomen the flow of ink slowed down a bit, enabling me to use finer lines.
In the midst of the family gathering, I used a fibre tip pen when I drew Ruby.