IT MUST BE the time of year; Barbara and her mum made a batch of jam last week and today I'm laying in stores of booklets, like a squirrel building up its cache of nuts for the winter. I've printed over 150 booklets today – walks and local guides. These are in black and white and I got them printed in about the time it takes to print 15 of my Sushi Sketchbooks; my old large format colour printer is much slower.

These bundles of finished booklets (left) are interleaved with sheets of card, sitting on the desk under rocky paperweights waiting to go under the press before I trim them with a guillotine. I find that I can get more controllable pressure on them by putting them between two offcuts of chipboard and using a couple of large G-clamps than I can by putting them in the antique cast iron copy press that I keep in the studio.

Printing on Demand

When you can get booklets printed professionally at such a reasonable price why do I go to all this trouble?

To make a print run worthwhile you have to go for at least 1,000. When they sell out, which for my titles might take a year or so, sales have often slowed down so much that it's not worth going for another print run. Using my desktop publishing, printing-on-demand system I can have all my booklets in print and, as a bonus, I don't have to find storage space for thousands of booklets.

Booklet Therapy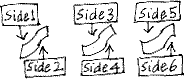 There's also a therapeutic side to turning piles of blank colour copy paper and card into crisp little booklets. It will be 10 years in February since I produced my first booklet, Around Old Horbury, which I compiled from my existing artwork in about 3 weeks and launched when I put on a exhibition of my work at the local library. Thanks to the printing-on-demand system, it's still in print and I've probably sold 1,500 copies in total. There are seven titles in the series, so that adds up to a lot of copies sold.
One of the booklets I produced in this format, Grandma's Guide to the Internet, written by my sister and illustrated by me, has sold more than 50,000 copies but I'm glad to say I didn't attempt to print those here at home.

After all these years, I'm still finding ways of improving the process of printing, collating and binding the booklets. For instance, with the Sushi Sketchbooks, I've always printed them side 1/side 2 then side 3/side 4 etc (above, left) and it was only this week that, while making the bed one morning, it struck me that it was obvious that I should print the Sushis sides 1, 3 and 5 together (right), then flip over those three sheets and put them back on the multi-purpose feeder to print 2, 4 and 6. It means that I need to go back to the printer and to the print dialogue on my computer only twice for each booklet instead of six times.

Duplexing

But that's with my old, slow printer; my new Oki 5600 A4 laser printer, is wonderful because it has a duplex unit for automatically printing on both sides of each sheet of paper. That makes printing booklets so much easier.


For my local booklets I used to print two double-page spreads on each sheet then trim the sheet in half (above, left). I'd end up with piles of each double-page spread laid out in order on top of the plan chest (right). Doing it this way, I had to be careful not to pick up two sheets at once as I collated each booklet or I'd end up short of pages for the last copy.


With the duplex unit I print one set of pages at a time, trim the whole stack down the middle with the guillotine (left) and I've got two booklets, already collated. I can just about keep up with the printer, adding the cover and stapling the booklet as I go.


The enamel jug I use when I'm painting with a acrylics