'EXCUSE ME!' says the woman who's just pulled up at the opposite side of the pump. She points to the floor. Keeping my eyes on the pump's digital display and trusting the automatic cut-off of the pump, I've just allowed several litres of petrol to overflow beneath the car. She hands me a bucket of sand to spread on the puddle.

I was once a petrol pump attendant just across the road (what is now a car wash) here at Horbury Bridge (or to be strictly accurate, just across the parish boundary, in Middlestown) and my misadventure prompts me to look out a student sketchbook from a box in the attic.

In my summer vacation in 1968 or 69 (I didn't date my sketchbooks at the time) I spent one week as a volunteer warden at the RSPB Osprey Reserve at Loch Garten then came home and set about earning some money by taking on a morning paper round, going around the shops in Horbury asking if anyone needed any graphics work and manning the pumps at Mr Bunney's garage in the afternoons.

As you can see from my drawing, ICI Imperial ranged from 5/4d for two star to 5/8d a gallon for four star. It's about 12 times that price today. Unleaded wasn't available. Some customers asked for a squirt of Redex, a kind of engine conditioner.

On my days off, I drew flowers, birds and fungi in local woods and parks and I remember my frustration at being stuck by the pumps when I could have been out in the country walking and drawing but being stuck in one place gave me an opportunity to work longer on each drawing than I normally would.

Looking back at it now, this little record of everyday life is more fascinating than the wildlife that I was drawing at the time; a half forgotten chapter of my life brought vividly to life again for me.
Pencilling in the Gaps
I drew the Fina filling station across the road which wasn't in regular use at the time. It's a Jet station now; that's where I spilt the petrol today.
I feel that I have a good memory for places yet I've completely forgotten the anonymous-looking building (left) which is a detail from a larger drawing (right) made from my pump attendant's cabin. It must have been demolished soon after I drew it, although from it's style it couldn't have been much more than 15 years old at the time.
You can see why I abandoned pencil in my sketchbooks; the smudged graphite joined the grubby hand-prints that went with the job. I used to enjoy cleaning my hands with Swarfega at the end of my stint. I've increased the contrast in these scans and I feel that I should clean up the drawings still further and publish them because they're a rare record of a once familiar scene.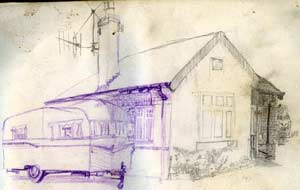 At the end of my holiday I had a wallet stuffed with the money I'd earned. I put it in my pocket and lost it somewhere. I managed just as well without it, as between my college work and all my other interests there wasn't really time to go out spending money. The following summer, I booked 3 weeks at the Osprey Camp and drew pine trees, hills and highland birds instead of pumps, trucks and sheds.
I used a Daler Spiral Bound Sketch Book Containing 30 sheets of 60 lb. Cartridge paper, 11½ x 9 inches.
Mr Bunney and his wife lived in the bungalow (right) which is now Connie's Diner.