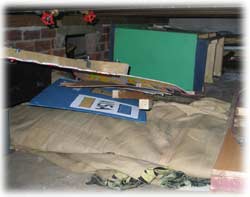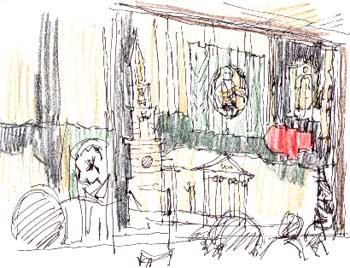 OPERAS & PANTOMIMES . . . farces and kitchen sink dramas . . . Shakespeare, Noel Coward and Gilbert & Sullivan; these curtains, now bundled under the stage in at Horbury High School, have opened on them all.
Horbury Concerts
As the school's Steinway grand couldn't be lifted on stage, they served as the backdrop to scores of recitals by artists such as pianist Yaltah Menuhin (sister of Yehudi), the 'three hands, one piano' duo of Cyril Smith and Phyllis Sellick and the pioneer of early music, David Munro, who gave a lecture/recital featuring a range of medieval instruments and some of their folk music equivalents from around the world.

Torn Curtain

The hall is due for demolition - it saw its last speech day last week - but I'm hoping that the curtains can be restored. Not surprisingly, after 40 years of swishing back and forth, they're frayed at the bottom and there are holes big enough to see through in places. The varied fabrics, which include velvets, natural-looking linens and bold prints (my favourite is a large woodcut-style pattern of hogweed stems) have worn at different rates but they still have plenty of strength in them at the top.
They're approximately 12 feet in height and 50 feet in width (i.e. two at 25 feet across, possibly a little more as there's some fullness in them when they're drawn). They were replaced with plain red velvet curtains a few years ago. The new hall will be an arena auditorium but there are suggestions that it might include a fold-down temporary, so there could be an occasional use for the curtains.
John Carr of Horbury
I've never spotted an artist's name on them but the bold, witty design makes me think they must be the work of a professional designer or painter. They depict some of the buildings designed by Horbury-born architect John Carr (1723-1807), including the Crescent at Buxton and Horbury's classical Georgian St Peter's Church.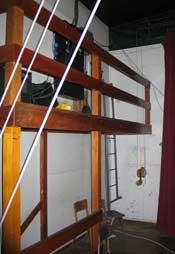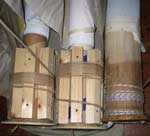 John Carr's portrait on the right curtain has golden buttons and brocade stripes on the waistcoat, which sparkle in the footlights before a performance.
They've been a part of school and village life since 1963, so they've become a part of our heritage but they're also an attractive work of art in their own right, very much of that optimistic period.
Behind the Scenes
Aware that buildings can vanish without a trace, I feel that I should make a photographic record of the back stage area that has become so familiar to me over the years. I take a couple of photographs of the lighting gantry and the home-made roller for the backdrops, which is better than nothing but I'm aware that there's a lot more which could be recorded.
It's difficult to photograph the hall from the outside because it has been engulfed by other buildings as the school has expanded. But any record of its appearance would be better than none.

40 years on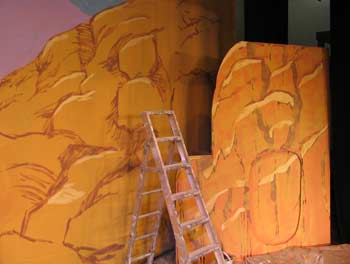 It's probably not so important that this baby-boom building should be recorded as there's nothing unique about it but I have a sentimental attachment to the place as it gave me my first experience of painting on a large scale. After my first couple of years with the Pageant Players and a behind the scenes tour of Pinewood Film Studios, I considered applying to do theatre design at Wimbledon College of Art but, by the time I submitted my application, I had reverted to my natural inclination to draw on the page and went for graphic design at Leeds instead.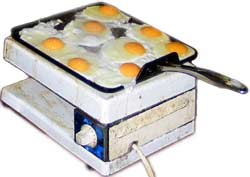 This was also my first experience of working as part of a team on a creative project and I evidently enjoyed it because I started as a out with the Pageant Players as a spotty 16 year old schoolboy and, here I am, a grizzled 56 year old!
The first play that I worked on was Noel Coward's Blithe Spirit at about the time I finished my O-levels and here I am 40 years later having worked on every Christmas show and many of the other productions in between.
What will I miss most about the old hall?
The creative buzz? . . . the camaraderie of the back-stage crew? . . . Or will it be the Saturday morning fry ups provided by Wendy, our producer?
Interlude
I'm pulling the curtain on this online diary for a while. It's been great to do a page a day over the last two months but, now that I've got my two weekends of painting scenery out of the way, I'd like to pick up the pieces of my professional work. I need to put all my energies into finishing my book on drawing from nature but hopefully I'll find that I can spare the odd afternoon to go out drawing something for this diary.