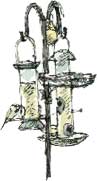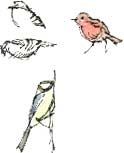 WE TOOK the bird feeders down in the spring when a brown rat started visiting our back garden and I'm afraid that it wasn't until last week that we - or rather Barbara - took the feeders out of the shed, cleaned them, filled them with sunflower hearts and installed them on the shepherd's crook pole at the edge of the patio.
Robin and blue tits found them within minutes and within 24 hours goldfinches and siskins were regular visitors. Hopefully the disk that Barbara fitted to the right-hand feeder will catch a lot of spilt seed. The siskins like to settle on it to feed, as do the collared doves who have worked out it's easier to sit here than on the small perches.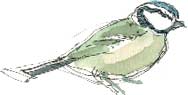 I didn't have much light left by the time I started drawing at about 2.30 this afternoon so I'm glad that the days are now getting longer. I tried to capture the dullness of garden birds in winter plumage seen in fading light. I always think of the blue tit (left) as having a pale yellow breast, blue head and bluish-green back but seen a few yards away on a dim afternoon the colouring seems very subdued. I've got the robin looking brighter than it actually appeared.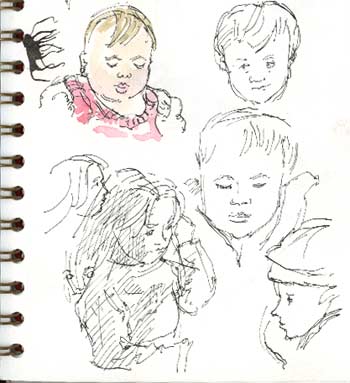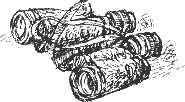 I set up my telescope on a tripod, trained on the feeders, to give myself a closer, brighter view but unfortunately it won't focus on anything nearer than 40 or 50 feet so the blue tit was drawn with the aid of 10 x 50 binoculars. It appeared brighter in the binoculars but as the light was fading and the birds were dispersing, I had only a second or two to observe it each time it flitted to the feeder to take a sunflower heart, which it took back to the safety of the hawthorn hedge to deal with. Sparrowhawks are regular visitors to our garden so the blue tit is wise to be cautious. Goldfinches sometimes seem more heedless of danger and we've seen them caught on rare occasions.
I would have liked to have used the Ackerman pen for the bird drawings but I've almost exhausted the first filling of ink and I couldn't get it to flow, so I grabbed the nearest fibre tip. I used the Ackerman this morning to draw the children of visiting friends and relatives. I cleaned the pen last night by holding the nib under the cold tap and you can see that I had to start with a bit of a blot to get it flowing before drawing the children (left).
I think it's going to be similar to a dip pen in maintenance that's needed, so I'm going to have to be prepared to get into a routine of cleaning and filling.