Richard Bell's Wild West Yorkshire nature diary
Duck & Drakes
Tuesday, 20th March, 2007


BREAKFAST-TIME: the usual gaggle of pheasants below the bird feeder, but, hang on, one of those female pheasants is, in fact, a duck.

A male and female – drake and duck – mallard are standing at the edge of the pond. It seems strange to see all this activity; our back garden resembles a farmyard this morning.

The mallard pair have an uninvited guest tagging along with them; a satellite male is watching

them from a few yards away on the garden path behind the raised bed.
A male pheasant sips water from the pond just a few feet from the ducks.
I wonder if this is the female mallard who brought her ducklings through the garden last summer. We did see her hunkered down behind the flag iris last spring but never guessed that she might be sitting on eggs.
Rocket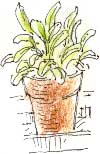 We've had our first taste of the salad leaves we planted in pots of peat-free multipurpose compost on the kitchen windowsill. It's mainly the rocket that's large enough to taste now and we've found that the cultivated variety has done better than the wild, which still looks like attenuated cress.
The rocket really packs a punch; it seems more peppery than it does in the salad leaves you get ready-washed in a plastic bag from the supermarket. I've used them in an omelette and Barbara's popped a few in the sandwich she took to work. Just nip off a few leaves, or trim them with a pair of scissors. They're a crop you can have growing at any time of year on the windowsill.
Who'd bother with petunias?
Hard and Soft Options

A tempting glossy brochure from my printers arrived this morning. They specialise in books and the hardbacks the do look very attractive. I e-mailed my contact there and he replied that recently they've got a new machine that adds a UV varnish which is a nice option for a hardback and they offered to do me a quote, with no obligation.
When I did the sums, the Wild West Yorkshire sketchbook that I've been working on would work out, retail, at £10.95 (128 pages, 244mm x 171mm, full colour) in hardback or £7.50 in paperback. That's about a third as much again for the hardback.
When I've done more of the artwork I should get an impression of whether this might make a gift book or whether it's going to be primarily an informative book. A hardback full colour wildlife sketchbook could look very attractive and certain books that I buy I don't mind paying a few pounds extra to have them in hardback.
We'll have to see. No need to make a decision yet.