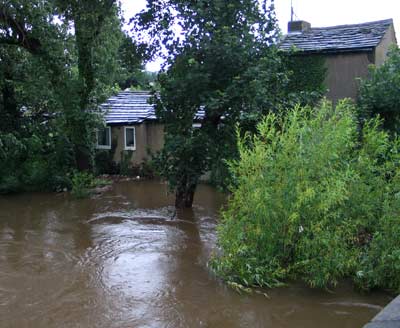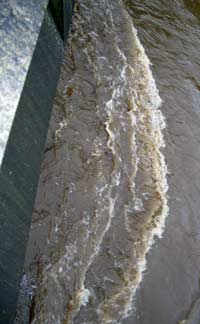 THE STRIP OF HOUSES and businesses on the north bank of the Calder at Horbury Bridge is called The Island because in Victorian times a short stretch of canal, since filled in, cut them off from the rest of the village.
It's been the wettest June on record and today a month's rain fell in 24 hours. Most of the roads into Wakefield were closed because of flooding, large parts of Sheffield and South Yorkshire are underwater and, here at Horbury, the river is as high as I've ever seen it, equalling the levels of November 2000.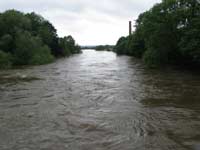 This evening, when we walked down to the bridge, cars had pulled up and about 40 people were standing in groups watching the flood. One man told us that, because most of the rain had fallen on the hills to the west, the river would continue to rise until about midnight.
With rushing waters lapping the tops of arches and bow waves frothing over the submerged bridge piers, it felt like being at sea.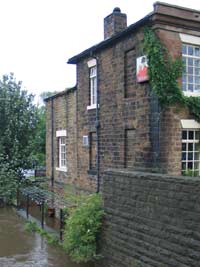 Bingley Arms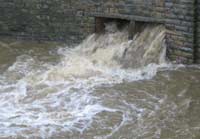 The cellars of The Bingley Arms (right) have been flooded before but today the riverside terrace is under several feet of water too. As I mentioned last week, the flooded river blocks the outlet of Coxley Beck, which flows under the forecourt beer garden of pub, so now an old overflow channel (left), which I believe formed a part of an old watermill race, of is roaring out into the canal basin.
The river is 16 feet above its normal level, the canal 4 feet.

Water Under the Bridge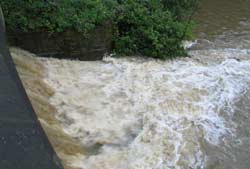 There's another overflow into the canal nearby (left) which is also running at full spate.
Coxley Beck and Smithy Brook meet a short distance upstream by the old Midland Railway viaduct (right) and, since between them these streams drain a large area of well-wooded farmland, it's not surprising that a pool has developed on the paddock immediately adjacent to their confluence below the arches of the viaduct.