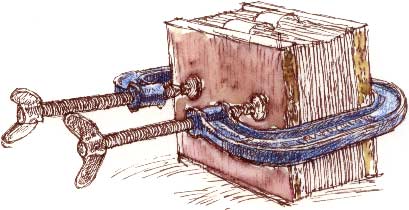 IAN MACNAIR wrote to me some time ago, asking if I could suggest a decent replacement for the Edding 1800 sepia 0.1 pen.
'The problem,' he says, 'is that many of the manufacturers seem to restrict themselves to black, blue, red and green, which are fine for office work, but not as good as sepia for countryside subjects. Also, Rotring seem to have withdrawn their Rapidoliner range.
'I have tried the Pilot Drawing Pen (01), which gives a good fine line but the colour is a bit too much on the reddish side. And looks odd in cross-hatching.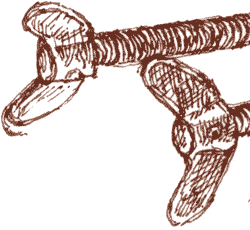 'However, I have just discovered a brilliant replacement for the Edding in the Staedtler triplus fineliner (sepia). It's in a triangular shaft and if anything is better than the Edding. I came across it in an Aladdin's Cave (aka Jarrolds in Cromer, Norfolk).'
The Ink Blot Test
I found one today while browsing in Denby Dale Stationers in Springfield Mill, itself something of an Aladdin's Cave. It was easy to spot, with its 'ergonomic triangular polypropylene barrel for effortless, fatigue-free writing'. It comes in a range of 20 bright colours which, if you buy them in a set (of 4, 10 or 20), come in a case that converts neatly into a desk stand. The line it produces is about 0.3 mm.

Stædtler decribe it as 'DRY SAFE' - they say it can be left uncapped for days without drying up (test ISO 554) and they claim that the water-based ink washes out of most textiles*.
I find that it flows well, giving an inky kind of drawing, as you can see from the detail (right) which I've shown at nearly twice the actual size.
The quality of line is very similar to what you might get with a fountain or dip pen but there's only problem for me; I find that when I add watercolour the ink runs into the wash, as you can see on the board in the centre of the drawing (top, left), which I intended to be pale yellow ochre, not mid-teak. If I want to add colour I'll use coloured crayon; the blue of the G-clamps is Derwent Watercolour Pencil, without, of course, the addition of any water. I didn't want to lose all that careful linework!
G-clamps
Clamped between the two boards in my drawing are 10 copies each of my two latest booklets; Walks Around Horbury and Walks Around Newmillerdam. I like to leave them in the press overnight before trimming them, so that they don't splay open on the shelf. I've got a lovely Victorian copy press which I also use but I find that I can get more pressure with these two hefty G-clamps. I put a piece of card between each booklet and clamp the bundles between two A5 off-cuts of melamine-faced chipboard shelving.
There's more work than you might think involved in producing a crisp, squarely trimmed copy of the booklet and you can see why I'm intending to go for a professionally printed book for my next title.
Permanence
Thank you to Ian for ferreting out this pen; at just 85 pence from Denby Dale Stationers, its worth keeping in my art-bag for natural history drawings.
* I notice that Staedtler make no claims about the light-fastness or permanence of this ink, so it might be risky to use it in a drawing that was intended for framing, where it would be exposed to light for long periods.

Link: Triplus fineliner at www.staedtler.co.uk