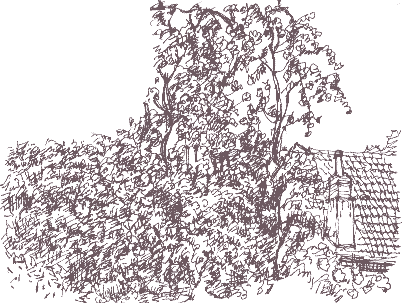 LIKE THE DRAGONFLY we saw at the weekend, I feel ready to emerge and spread my wings again. The past 2 months must rank as my leanest ever for drawing. These few (in Q Connect fineliner 0.4 mm) are all that I have in my sketchbook for the past few weeks.

I needed to take the time out, but I'm ready to draw again and get back to working on books. I usually lurch from one project to another but this spring it's been good to do the jobs that usually get neglected.


Down the Garden Path
Spring generally starts with beds cleared and crops sown but invariably by summer the weeds are fighting back and we're rummaging among nettles to harvest the produce. I always feel as if I do half a job.
Today I finally laid the wood-chip – a generous 4 inch layer of it – on the new path by the hedge, so the scheme that I planned months ago in early spring is finally a reality.
It's now such a pleasure to walk down to the greenhouse; the veg beds and the rest of the garden are at last working together as a coherent design.

I'm ready for some real summer weather, it's raining persistently again as I write this, but one bonus of the wettest June for almost 150 years (and July not much better so far) is that the crops are flourishing. The leeks, for instance, have now hit the netting above them and we can probably risk uncovering them despite the presence of the (once cute, now hulking) rabbit that lives under the hedge.