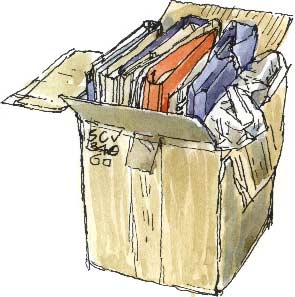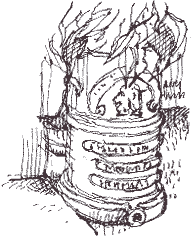 HERE ARE ALL the files relating to the geology group that I'm secretary, treasurer and web-designer to, all ready to go to our new office tomorrow.
I've been working steadily on the text of my book but this afternoon at 5, I thought, enough's enough; I need to do a drawing now so I sat down and listened to the news and drew the files in dip pen and Nan King Indian ink, adding the colour with White Nights watercolours. I'm beginning to think that the characteristic of White Nights is that they give a softer effect than the Winsor & Newton Artists watercolours in my smaller box. The W&N seem slightly more brilliant, perhaps with less of a granular texture than the White Nights but, as you can see from the three sketches (below), for which I used Staedtler Mars Professional fibre tip and W&N, I get very similar effects whichever I use.
I'm currently reading through all Hergés Adventures of Tintin, so clear, simple drawings with harmonious colour seem like just the right way to work at the moment.
I drew the Victorian water filter (which still has its ceramic silicated charcoal unit inside) at our friend's Roger and Sue's yesterday. I imagine that you'd use a filter like this for water from a pump or well, to remove any impurities before drinking it.

Productus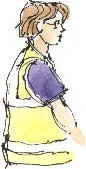 Barbara and I helped out with a Dino-day at the Waterton Centre in Anglers Country Park on Saturday. The activities were set up by members of the North Yorkshire Geology Trust and their six summer students, including Helen (left), who was in charge of the scene-of-crime for 'Who killed Trixie the Triceratops' and David (right) who was helping with dinosaur mask-making and other activities.
My aim was to draw the whole team as Tintin characters - trying to simplify them and suggest character and movement - but they were just too active for me, so this is as far as I got.
I was there to attempt to identify any fossils or rocks that members of the public might bring in. In between talking to people I had the opportunity to draw one of the fossils; a Productus gigantus brachiopod (left) from the Lower Carboniferous. You'd find them in the mountain limestone around Malham, for instance.