Buckstones, West Yorkshire, photograph by Gordon Smithies
Banner designs by The Drawing Room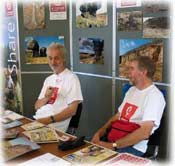 'YOU'LL RECOGNISE ME,' I told keen photographer Gerry in an e-mail, 'I'll be the tall grey-bearded one in the West Yorkshire Geology Trust T-shirt.'
This wasn't much of a clue as Barry Tymon and I (right) were manning the stall when he arrived.
As Gerry's photographs show, it was a well-attended launch, here in Otley Civic Centre, for our new geology trust and the Local Geodiversity Action Plan which we are now devising for our county of craggy gritstone, fossil-rich coal measures and magnesian limestone: rocks that formed, respectively, in ancient river deltas, in tropical forests and in dying seas - right here in West Yorkshire.
Rocky Roadshow
We made some useful contacts; new members who enrolled today, include educators and specialists in geochronology, palaeontology and building stones as well as children with a keen interest in dinosaurs and fossil life.



You don't have to be an expert to join and to help and support the work we do; just fascinated by the rocky world around us.
Geodiversity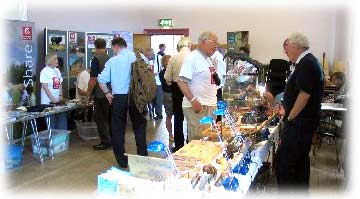 The event made a good start for our renewed efforts to protect West Yorkshire's diverse geology and, equally important, to share it, enabling young and old, visitors and residents, to explore and experience the rocks, fossils and mineral wealth that made the county what it is.
Thank you to Gerry for capturing the event on camera. You can see more of his work at: Yorkshirefoto
For more about the Trust see: www.wyorksgeologytrust.org


WYGT member Sheila Dyson with children at a recent Dino-day at Anglers Country Park (a former opencast coal mine) near Wakefield. Photograph by David, one of the geology students working at the event.