PERHAPS IT WAS all the rain we had during the summer; the hedge along the towpath is like an aisle in a supermarket, dripping with fresh fruits. We pick some blackberries near Savile Town canal basin as we walk to Dewsbury - they go well in an Eve's Pudding with windfall apples from next door. Eve's Pudding has cake rather than pastry on top.
There are plenty of hazel nuts on the bushes and scattered on the ground below, suggesting that some bird or small mammal has been feeding. Perhaps it will be a good year for wood mice and voles. If so, the barn owl, which at last seems to be staging something of a come-back, might benefit. It's a good year for sloes and haws too.
CaffeXpress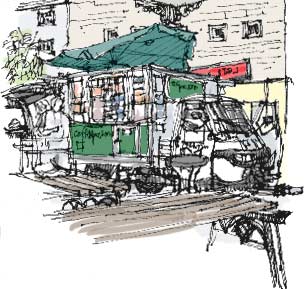 Drawing the CaffeXpress 'probably the smallest internet café in the world' at the bandstand, in the Market Place, Dewsbury, reminds me of the booths of New York that Danny Gregory drew in his Everyday Matters sketchbook. Danny and I drew at the market here one Saturday morning a couple of years ago, filmed by Yorkshire Television.
Barbara and I go for the latté-and-muffin offer. We haven't been to Europe this year but this is the next best thing. They zuzz a fresh lot of beans as we stand in the queue; something that you don't get in every coffee shop, perhaps it's that of freshly ground aroma that reminds me of the continent.
Dewsbury v. Wakefield
Dewsbury is lucky that it's centre is laid out in a way that lends itself this kind of thing. Wakefield has some impressive public buildings but they're tucked away from the market area in the 'Civic Quarter' so you usually only see them in passing. The Cathedral sits discordantly opposite 1950/60s high street stores. The precinct there feels like a corridor. It's a shame they demolished the old Moot Hall in the 20th century.
Victorian Dewsbury hangs together more successfully with its town hall sitting there, overlooking the bustling centre like a mother hen, reminding me of a hôtel de ville overlooking its square in a small town in France.