A HOUSE SPIDER runs across the carpet as we sit watching television. I cup my hands over it, clasp them together, making sure there's no gap for him (looks like the smaller male to me) to escape so that I can put him out, but he's a house spider Houdini. While I'm kneeling with clasped hands, Barbara sees him scuttling towards the hearth.
Well, he is a house spider, so I guess he can stay.
In a small nature garden in the village of Wensley on Thursday, we saw more butterflies in one place than we'd seen all summer. Peacock butterflies and red admirals were attracted to a wide variety of herbs and garden flowers on steep slope in a clearing of trees by the River Ure.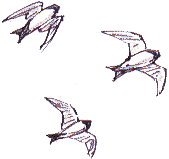 We've seen them in ones and twos in our garden but speckled wood seems to be the butterfly that's been seen most in late summer.
It's been a good year for dragonflies and we've seen the smaller red ones – common darters – regularly by our pond. Ladybirds have been in short supply but perhaps not quite as scarce as in recent years.
Last of the Summer
To judge by the number of house martins that are circulating over the houses and gardens, there are plenty of airborne insects about this evening.
It's as if the house martins are gearing up for some grand finale as they circle in front of the pinkish-gold backdrop of evening clouds; a hirundine equivalent of The Last Night of the Proms. One evening soon, they won't be there.
It's a starry night and there is a distinct autumnal chill.