Tower Pen
I used a dip pen with an old Tower Pen 111 nib and Nan King Indian ink for these drawings. I decided, after accidently blotting one of my Art Pen drawings at Roche Abbey the other day, that waterproof ink would be more practical.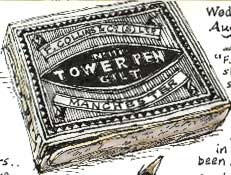 I can't get quite as a fine line as I do with the Art Pen so I'm working in an A4 Pink Pig sketchbook instead of the A5 format that I sometimes use. If I use the drawings in a published sketchbook, I'll reduce them to fit, as I have done here.
I keep referring to the Tintin stories; Hergé always worked a size up on his artwork and once, when starting work on a new story which required extra detail, he increased the working size still further but gave everyone in the drawing team thicker nibs so that the line wouldn't suffer when it was taken down that extra bit.
It's good to go back to dip pen again, although I find myself occasionally making blots if I make a sudden movement with the pen, as I did on the drawing above, so it's not a medium that I could risk using indoors much.
I've got two boxes of the Tower Pen nibs; nearly 300 nibs in total, which should last me a lifetime . . . or two.