| | |
| --- | --- |
| | Truffle Piggy in the Kitchen |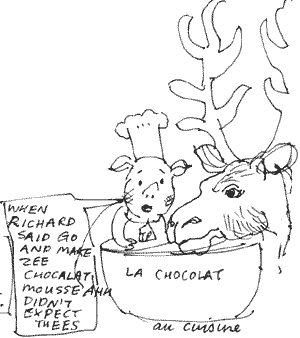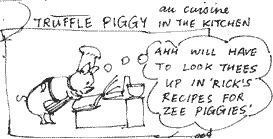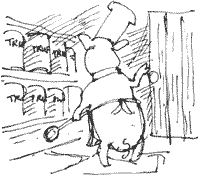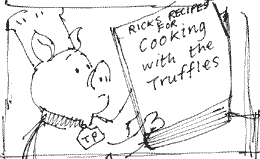 I remember that Richard Tyler, from the art history department, spent most of the interview looking through my Adventures of Truffle Piggy cartoons, chuckling to himself. I was applying for a place on the graphic design course at Leeds College of Art in 1969 but the Truffle Pig character dated back to four years earlier, to a family summer holiday in the Dordogne, literally in the Dordogne in my case (or to be more accurate, its tributary the River Vézère); an English boy dived in with a life belt to rescue me when I got caught in a fast current at a bathing spot.
| | | |
| --- | --- | --- |
| | Page from my holiday journal, August 1965, I was 14 at the time. | |


I thanked the boy breathlessly, as he got me to the shallows, I guess there's a possibility that I wouldn't have been here now if it hadn't been for his prompt action.
I'd got into difficulties because, after my brother Bill and I had been splashing in the shallows for a while, we decided to swim out to a diving platform moored at the other side of the river. We didn't realise that, as this was a bend on the river, there was a 6 knot current and a deep channel at the far side. We should have gone upstream then swum down to the platform with the current.
Bill made it to the other side, scrambled up a steep bank and walked back across the bridge. I decided to turn back and, when I thought I'd got to the shallow section, I tried to stand up in the water but I simply vanished beneath the water. I'd been down a couple of times by the time the boy reached me.
If he's reading this now, thanks again!

| | | |
| --- | --- | --- |
| | The original Truffle Pig from my 1965 holiday journal | |
In that area pigs were used to hunt truffles. I think most truffle hunters prefer to work with dogs these days.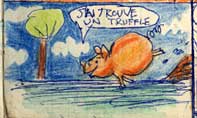 I came across Truffle Piggy in the Kitchen (top of the page) this afternoon while sorting through sketchbooks for my book on drawing wildlife. I liked drawing the character but found the gags difficult to think up. Mel Brooks once said 'When God created prey he made rabbits and Gene Wilder' and T.P. was that sort of character. When I tried a Revenge of the Truffle Piggy plotline it didn't work.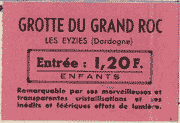 I once made a cut-out animation on 8mm cine film Truffle Piggy at the Fun-Fair, replacing myself as the villain with a wolf. Sadly the camera wasn't working so for all those hours of work all I got was a short animated title sequence.
I was reminded of Truffle Pig recently when I met Mooneyman, creator of Professor Pigface, photocopying cartoons in the local stationery store.