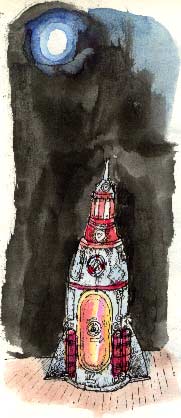 I DREAM of living in the countryside - OK, in reality I do live at the edge of the countryside but as it's on the fringe it seems that it's always under pressure so for me it never has that idyllic sense of timelessness that goes with my notion of countryside. But in my dream this morning the sprawling city of Wakefield was transformed back into a small market town something like Holt in Norfolk or Cockermouth in Cumbria and my route home from an art workshop at the cathedral wasn't via the wide Calder Valley with its brand new office blocks and car showrooms but through a quiet moorland valley like Borrowdale in miniature.
Well, I can dream but this morning we're heading away from town to the farm shop out in the fields at Emley and we soon find ourselves in countryside again – pastures, small woods, stone-built farms; good walking country, the stuff of dreams.
Fresh Start
I usually make an attempt at a fresh start for the new year but this year has been exceptional; not only have I dusted every book and shelf in the studio, I've also sorted every last bit of paper* that has been lying around on the desktops and pinboard for months. But I must call that it; I mustn't start opening drawers, cupboards and loft hatches and trying to sort them out too!
Fly me to the Moon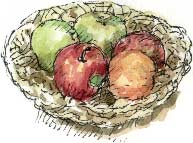 Amongst my books I found a couple of old sketchbooks which I moved to the attic where I'm collecting all my sketchbooks together. I drew the rocket (left), which has obvious Heath Robinson influence, as one of props for a Christmas production I was designing the scenery for. At that time, in the mid-1970s when I'd just left art college, I lived in a flat where my single room doubled as bedroom and study. I loved to have it stuffed with books and with all sorts of bits and pieces, including a 6ft x 4ft notice-board which filled the wall above the bed which I used to display my work in progress. I felt I wanted to be surrounded by all my projects and interests. My den.
Now I appreciate the calm, clear uncluttered space. My head is stuffed with so many bits and pieces that I don't need to have them jostling for my attention all around me as well.
*Oh no I haven't; there's still one stubborn bit of paper on the pinboard, a form for a free listing in an artists' directory that I need to fill in!