Trees from the Train
Richard Bell's Wild West Yorkshire nature diary, Wednesday, 2nd April, 2008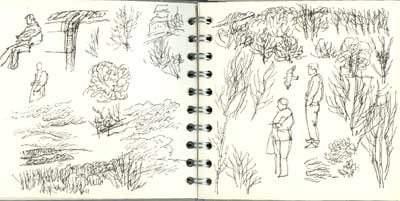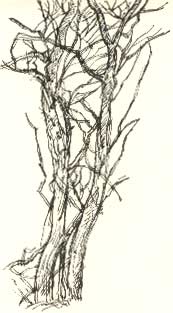 I DECIDED that it was high time that I returned to the High Peak. My book High Peak Drifter was published 18 months ago and it's about time that I took my own advice and headed for the hills. I took the train to Sheffield and walked out of the city via the road to Hunters Bar and the series of small wooded parks that go up to the rim of the Peak District from there.
I stopped in the old-fashioned café in Forge Valley for a bacon and egg sandwich and, after climbing out of the top end of the valley, by then a narrow gulley, at Ringinglow crossed the moors towards Higger Tor then made my way down to Hathersage (in time for lunch - pea and spinach soup, perfect! - at Colman's Deli).
I needed to walk and to see the landscape change around me and you certainly do that on this walk from city centre to progressively wilder parks and, after a little over two hours walking, the open moor, where I sat on a tussock and had a drink of water observed by one or two of the black-faced and white-faced sheep that were grazing nearby. Meadow pipits flew up from the heather and moor grasses around me while a curlew made its bubbly calls.
The walk did me good after my recent cold but it was only when I got to Bamford station in the High Peak, 40 minutes early for my train, that I decided to do a drawing, to tell you the truth I hadn't really been feeling up to drawing before then. I drew two sycamores growing by the fence on the opposite, Manchester-bound, platform.
This inspired me to keep drawing and I sketched more trees, a few passing birds and occasional passengers waiting on platforms on my return journey to Wakefield.