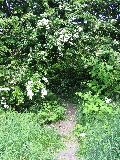 THIS GREEN TUNNEL is the unofficial entrance to Horbury Quarry which looks at its best at this time of year with the May blossom out on the hawthorns. The path opens out (above) and you pass clumps of purple-flowered comfrey as you approach the eastern end of the rock face. My brother and I and our friends played here as children and made a flying machine film here as teenagers. Today's children aren't quite so free-range but the place is still popular with dog walkers and some friends of mine used to pick 'the best wild raspberries you can find' from their own 'secret' clump hidden away in some corner of the quarry.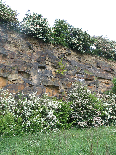 As you drive into Horbury on the road from Huddersfield, the quarry comes into view as you approach the bridge over the railway. It gives its name to the road alongside, Quarry Hill, and to the old pub at the top of the hill, the Quarry Inn.
Quicktime Panorama
Click the image (left) to view a Quicktime Panorama of the quarry, Horbury's landmark dating from the Victorian period when stone was supplied to build the mission hall at nearby Horbury Bridge. This massive bed of sandstone, known as Horbury Rock, was laid down in sandbanks in a river or delta towards the end of the Carboniferous period, some 300 million years ago.
previous | this month | home page | next
Horbury Quarry: Quicktime panorama, 686Kb.